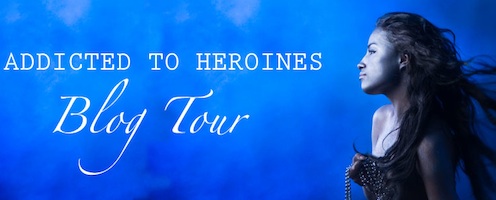 Dear Reader and Visitor,
I'd love to extend an invitation to you to join us February 1 – 10th for the ADDICTED TO HEROINES Blog Tour.
Whether your ideal literary heroine is the smart girl, the cool girl, the kick-ass girl, the beautiful girl–or a mix of the above, join us for fun conversation, insightful guest posts, and awesome contests and prizes. You won't be disappointed!
Four lovely authors are joining me on this tour:
Cecelia Robert, author of REAPER'S NOVICE
Devorah Fox, author of THE LOST KING
Francene Stanley, author of STILL ROCK WATER
Samantha LaFantasie, author of HEART SONG
Right now is Meet the Author Week, and each of us are sharing our deepest darkest secrets stories about what we thought we'd grow up to be when we were in school, when we started writing, and which authors and books are our all-time favorites.
Stop by and say hello, and share with us your thoughts! You can also grab a blog tour badge or banner for your site, and don't forget to like the Blog Tour's official Facebook page.
With love,
Alesha