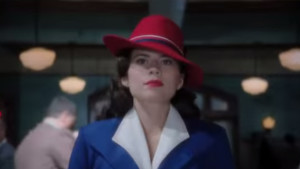 Jarvis: "What now, Miss Carter?"
Carter: "Now…I go to war."
(I'm paraphrasing that scene 🙂 )
And to war she goes…
the Agent Carter premiere did not disappoint! It was an action-packed ride that truly captured what we loved about Peggy Carter from the movie and (in my humble opinion) captured so very well what a female spy would have likely encountered after the glory days of the War.
We see that Peggy is with SSR, however they seem to shrug at her presence and ask her for coffee refills–you know, instead of sending her out on field missions to kick ass and bring home the bacon. But that's okay, because SSR is chasing her friend Howard Stark. They're convinced that he's sold dangerous weapons to enemies, but Peggy has her doubts. When Stark contacts her in secrecy, begging for her help in retrieving his stolen weapons and clearing his name, she agrees to help, despite it meaning working outside of SSR approval (and sometimes even crossing them).
Gotta swipe an apocalyptic weapon for Howard Stark? Just let the Boss know you have a headache and "lady things."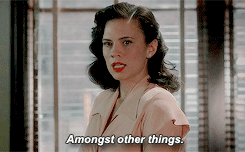 Now, the shopoholic in me wants to say, "Take the day off and go shopping? Heck yeah!" But no-no-no, he said it in a sexist manner, so no shopping today.
The remainder of the show dealt with Peggy's attempt to retrieve a dangerous set of weapons that have being sold on the black market, while also processing her grief over losing Steve Rogers (Captain America), and feeling lost and out of place in an environment that tells her she should be dating and primping, not saving the world.
I LOVE Jarvis! He's a great addition to the show. I'm looking forward to seeing more of him as he aids Agent Carter.
Count me in as a fan 🙂 I can't wait for the next episode.
—–
About Alesha Escobar
Alesha Escobar writes fantasy to support her chocolate habit. She's the author of the Amazon Top 100 historical fantasy series, The Gray Tower Trilogy, an action-packed spy thriller set in an alternate 1940s where magic meets espionage. The first book of the trilogy, The Tower's Alchemist
, is free at Amazon.