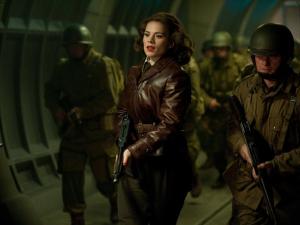 Yes! I finally got to settle down (it's been a busy week) and watched Agents of S.H.I.E.L.D on Hulu. I'm very excited that it's back, especially after the huge upheaval from last season (and then there's the movie tie-in).
The Season 2 premiere did not disappoint, and I'm looking forward to the day (you know it's coming) when Ward gets out of that cage.
And of course, I loved seeing the Agent Carter flashback at the beginning; I wished there could've been more. I will definitely be there when Agent Carter's TV series kicks off (next year?). It looks like the premise of her show will be about her going on covert missions for SSR (Strategic Scientific Reserve) while slipping out of the confines of her "day job" as an office administrator (she's still in the 1940s).
It's not too far off from what several female spies did during and after the war. They would use the cover of clerk or administrator while actually being a full-fledged spy for the government. When you have the chance, check out this super fun post I did about a couple of real life women who spied for the Allies–Don't Call us Girls: The Badass Female Spies of WWII.
If Peggy Carter were real, I would certainly add her to the list!
Which brings me to…
My supernatural spy thriller, The Tower's Alchemist
, has a similar feel to Agent Carter (except with magic, Nazi warlocks, and vampires). It's currently free to download at Amazon, Barnes & Noble, and iBooks. While you're at it, pick up books 2 (Dark Rift
) and 3 (Circadian Circle
) for only 0.99¢ each before they go back to $3.99!
There are only a couple of days left to enter my huge giveaway. I'm talking sleek iPhone cases, jewelry, Amazon gift cards, and signed paperbacks. Here's the rafflecopter. Make sure you enter the giveaway before the deadline!