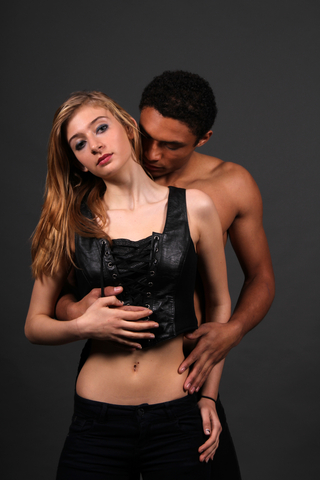 We all have expectations when we pick up a book.
We get a horror book and expect frightening things. We pick up a romance and expect the thrill of love. But what happens when genres are blended, and your urban fantasy has become all about smex? To put it another way, your kickass vampire/werewolf/ghost hunter has forgotten she's part of a fantasy story plot and is entangled in a relationship (or two or three)? Does she seem to be worrying less about the fate of her city or world as the supernatural baddies overrun it and more concerned with whether or not she should be with [insert hottie] or stop sleeping with [insert other hottie]?
This blog post by Tori at Smexy Books pretty much summed it up–and you know what? I agree!
Just a snippet:
As a long time reader of Urban Fantasy, I have always been of the opinion that the main defining appeal of this genre is the low key or utter lack of romance. It's not called UFR for a reason. I'm not saying no romance period in Urban Fantasy, but it shouldn't compete against or overwhelm the main storyline.
The issue is not that there are romantic relationships or "smex" in urban fantasy stories, but rather the author sometimes needs to make it clearer what her readers can expect when they pick up her book. For example, I know what I'm getting when I read Dicey Grenor's Narcoleptic Vampire series (urban fantasy with a very strong blend of erotica). That didn't keep me from enjoying the books–see my book review here–however, Ms. Grenor lets you know from the get-go that her books have violence, cursing, raunchiness (okay, a LOT of it), etc. and she's so brilliant and funny, that she (at least in my eyes) pulls it off very well.
Now, Dicey's asked me if my books had smex because that's what she likes. 🙂 They don't, probably because I'm a big dork when it comes to writing smex. Now, if I get a good handle on a tastefully done love scene–that could be something within my writing range.
For me, though, there's something else to it. It's a bit of a writing philosophy I've adopted. I remember listening to a well-known author explain that (according to his writing style and preference) that the idea or potential for smex can often be more alluring and interesting to the reader than a graphic or detailed encounter.
In addition, I have to reiterate my agreement with the Smexy Books post that it does become a problem for me as a reader of Urban Fantasy when my heroine forgets she has a job to do because she's busy in romantic entanglements–or worse, the story is actually full-on erotica with a bit of the supernatural thrown in so that it can be placed in the fantasy category (but has no business being in that category).
Enough of my thoughts…what say you?
How much romance or smex do you like (or tolerate) in your fantasy stories? How dominant should the romance sub-plot be? Have you become frustrated with the Urban Fantasy genre?