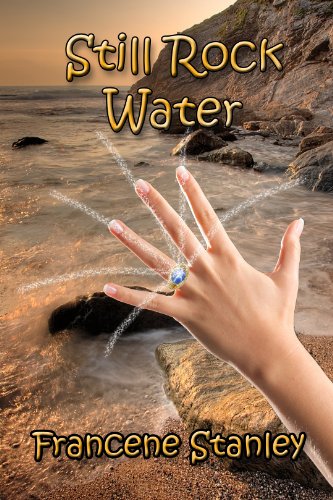 I remember reading At The Back of The North Wind for the first time (a very beautiful children's book that I highly recommend). The idea of a magical force or supernatural being whisking you away to fix wrongs and perform good deeds is very compelling and adventurous. But what if you're not a little boy looking at the world through such innocent eyes? What if you're a grown woman with a messy marriage, the yearning for something greater in life, and a mystical ring that throws you into other people's lives halfway across the globe?
This is the setting of Francene Stanley's Still Rock Water (first book of the Moonstone Series), and let me tell you, it is a delightfully magical read that will have you rooting for LIliha as she endures her marriage and family drifting apart while simultaneously pouring her energy into saving other people through the power of her mystical ring. The dialogue is well-written, sharp, and when Liliha experiences her paranormal or mystical traveling, the imagery is so vivid that you feel as if you're right there with her.
I also enjoyed the fact that Liliha was presented as a real woman with real-life problems. Sometimes life got in the way of her dreams or her magical undertakings, and she even encountered doubt from others. How many of us have had walls thrown up in our faces telling us to STOP when we knew in our hearts we needed to GO FORWARD? This was indeed a fun, yet complex read!
I don't want to spoil the rest for you, but please do check this book out! I'm definitely a Francene Stanley fan 🙂
Alesha's Rating: 5.0 out of 5.0