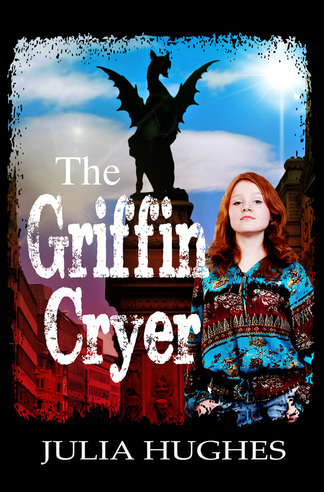 Let me first start off by saying how Ms. Julia Hughes simply charmed me with this story and pulled me in from the beginning. If you're a lover of fantasy (and especially YA fantasy), you must pick this one up!
Our protagonist, Francesca (aka Frankie), is a smack-talking, laid back, red-haired beauty who finds herself in an interesting predicament when she calls out for her dog Bally only to have a real life griffin answer. I thought the griffin "Balkind" was interesting not only because griffins are cool, but also because he is so well-described, with his own quirks and personality traits, that he's not just a prop in the story but a character in his own right.
When Balkind heeds Frankie's call, the griffin doesn't come alone. He's accompanied by a mysterious Rider who's lost his way and needs to return to his own world. I enjoyed how the Rider has relatable setbacks and flaws which add more layers to him. Sometimes I did find myself wanting to find out more about him and the Ella-Earth that he comes from, but I'm sure Ms. Hughes is saving that for the next book!
As a reader you immediately sympathize with Frankie, especially when you see her daily struggles of wanting to find a place to belong (as most teenagers do), the terrible bully who gives her grief, and her relationship with her brother (Michael). I felt like the mom was a bit off to the side,  though what I did note about her was her amazing dedication to her kids. I LOVED Tony (step dad) who really stepped forward and defended Frankie when needed.
The villains of the story played their roles well, and several of them I just wanted to punch. I could see how some people would want to manipulate or use knowledge of griffins (or the parallel earth known a "Ella-Earth"), so it was interesting to see their motivations to play out and how Frankie, Rider and the griffin fought against them.
I won't say how the story ends (don't want to spoil you), but it looks like we're in for a sequel and I WILL be reading the next installment 🙂
Alesha's Rating 5/5