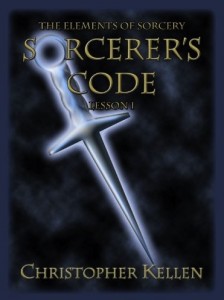 Fantasy Author Christopher Kellen has been kind to stop by and chat with me as part of his Elements of Sorcery 2013 blog tour, and he's even giving away some goodies! Let's give him a warm welcome:
Interview
Please share about the world of Eisengoth, and what makes it exciting and unique?
Eisengoth is a fantasy world in an old tradition. Before J.R.R. Tolkien defined the high fantasy genre with The Hobbit and The Lord of the Rings, there were a group of authors writing pulp novels in the sword-and-sorcery style. In contrast to Tolkien's fairy-tale/mythological world, the swords and sorcery realms of Robert Howard, Fritz Leiber and others were dark, dangerous places where the foes were not orcs or goblins, but simply other human beings. Around the same time, H.P. Lovecraft created a plethora of ancient horrors that slumbered deep beneath his modern world.
My goal, when I created Eisengoth, was to take the swords-and-sorcery sensibility of Robert E. Howard's Conan and Solomon Kane and merge it with the ancient horror hinted at by H.P. Lovecraft. The result is a fantasy world where the very force that sustains life is deadly to the touch; where immortal warrior-monks wield crystalline swords as they fight back the darkness that creeps into the realms of the living; where ancient dark gods wait just beyond the threshold for their chance to invade and enslave once more; and where guts, wits and savvy are just as likely to get you killed as they are to help you survive.
That sounds amazing! I've seen a recent blog post of yours discussing magic and whether or not the Tolkien-esque fantasy world is dead. How does the magic of your world compare, and in what direction do you see fantasy fiction moving in this regard?
Well, before the advent of the independent author, I would have said that Tolkien-esque high fantasy (specifically the mythological flair, not the derivative Dungeons-and-Dragons-campaign style which it seems to have become) was on its way out, possibly never to return, and replaced by the gritty, George R.R. Martin-style of political intrigue and historically-inspired fantasy. However, I've been made aware of several authors who are still working in that mythological fantasy field, so I'm glad to say that it's not dead yet!
The world of Eisengoth has little in common with Tolkien's mythological style, and I did that purposefully. I've spent most of my life reading high fantasy, the kind of stuff by Terry Goodkind, Weis & Hickman, Robert Jordan and more, and I specifically wanted to get away from that when I wrote ELEGY, which is the first book in my flagship series, The Arbiter Codex. The Elements of Sorcery is a further distillation of that concept, moving away from the norm, by writing in this dark swords-and-sorcery world with an urban fantasy tone, along the lines of Jim Butcher and Mike Carey.
Butcher, Jordan, and Weis & Hickman are among my favorites. I think readers (me included) who enjoy these authors will definitely have to check out your books. So tell me, what's becoming of the fantasy fiction landscape and where is it going?
As far as the future goes, I hope that the self/indie-publishing movement helps us to keep all of the genres alive, instead of just the ones that the big publishers think will sell. I love reading books from weird and cross-genres, the kind of stuff you'd never see on the shelf at a Barnes & Noble. I want to see us create new genres and keep the old ones alive, a marketplace where every author with a story to tell can shed their own light on the themes and stories that they love.
Agreed! I'll have to wring your arm and bring you back in to talk about cross-genres and my new obsession–fantasy noir. Now, back to your story…what three characteristics define your story's protagonist?
Edar Moncrief, the first-person protagonist of The Elements of Sorcery, is a highly-intelligent, self-serving coward, and I hope that he's quite sympathetic for these qualities. He's not a brave hero, nor any kind of warrior. He's a sorcerer, and he prefers safety and security above all else. However, despite what he thinks of himself, he does have some steel in his spine when it comes to doing what's right. His self-deprecation and self-awareness are–I've been told–what makes him so much fun to read about.
And what has been your inspiration behind your trilogy?
I've always loved bending genres. I don't like to stay tightly within the lines of a single story type, and I've always thought that the possibility of writing urban fantasy in a traditional fantasy setting was possible, and I think I've proven that. When I created Edar Moncrief, in a failed draft of a novel in late 2011, the first thing that someone said about him was "Didn't I tell you that I would kill you if I ever saw you again?" From that moment, I knew that I had to know more about this character, and why a single encounter with him would make someone–specifically, the stoic Arbiter D'Arden Tal–want to kill him. That's where Sorcerer's Code came from, and the second and third entries have grown on that foundation.
In fact, The Elements of Sorcery will be a pentology(?). There are two more installments planned, which I hope to finish by the end of 2013.
What do you think readers will get out of spending time in Eisengoth?
I hope that by reading The Elements of Sorcery a reader will get a few laughs, and a few chills. If you're going to do a ride-along in a dark fantasy world where pretty much everything wants to kill you, what better place than in the skull of someone with a sense of humor about life? Still, not everything in Moncrief's world is something to laugh about, and when things get bad, I hope that the danger within Eisengoth makes itself plain, and really gives a glimpse into what life would be like if the world really was out to get you.
This sounds like a very fun series to get into. Thanks again for stopping by and sharing your thoughts with us.
Thank you so much for letting me drop by your blog as part of The Elements of Sorcery 2013 Blog Tour, and I hope that you'll be looking forward to the launch of Sorcerer's Blood on March 1st!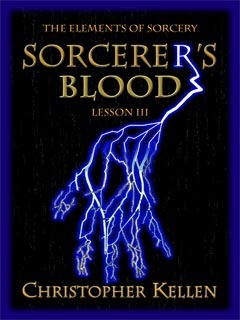 Giveaway