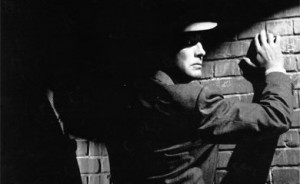 I am intrigued by fantasy noir.
Luis Escobar kept telling me that The Tower's Alchemist had noir elements, and the Open Book Society said the story read "like an old black and white movie" (and in a good way!).
But what exactly is fantasy noir? What do we mean when we use the term?
I love what author Anne Lyle had to say about it at her blog:
To my mind, that's a defining element of fantasy noir. It's not just about the rundown cities or the magic, but the introduction of tropes from other genres. The Lies of Locke Lamora is a heist caper; The Sword of Albion is a James-Bond-esque spy thriller. Noir is practically defined by its "mashup" nature, and that's what our magpie culture loves. Pride and Prejudice and Zombies? Why the hell not?
The mash-up of tropes is lovely indeed, and I think The Gray Tower Trilogy fits right in. I have also seen others describe fantasy noir as having a 1920s-1950s setting, and there has to be rain, etc. At the same time, a quick check on Goodreads would reveal "fantasy noir" lists that include Butcher's Dresden Files.
I agree with Ms. Lyle that we will be seeing more fantasy noir. Though I'm still unsure if there is a strict definition of what qualifies as fantasy noir (and please feel free to contribute and point me in the right direction), I am thoroughly enjoying the mash-up of stories that I'm seeing nowadays, and it can only be a win for fantasy lovers.
By the way, to celebrate the upcoming release of the final book of The Gray Tower Trilogy (Circadian Circle), the first book, The Tower's Alchemist, is FREE at Smashwords and iBookstore (Amazon won't allow me to manually price my book at $0.00 so I'm waiting for their price matching to kick in).