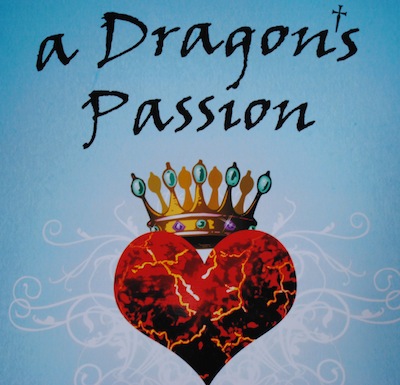 Today's feature is A Dragon's Passion, by the wonderful Sandra Enriquez! If you haven't read it yet, then get the details about this fascinating story here (along with a character profile of the heroine!).
Genre
YA Fantasy / Romance
Book Description
Inside the land of Miradel lies the Kingdom of Petroset, where a little boy named Tyson tried to hide a horrible secret from everyone.  Yet even as he endures an unjust nightmare in the king's court, he is strangely comforted by the warm eyes of the King's daughter, Annaliessa. Tyson realizes that he and the beautiful girl share something in common – a father that never loved them.
More than a decade later, Miradel is a land steeped in a witch's curse that binds Princess Annaliessa to five princes. Forced to choose one to marry even though she is not in love with any of them, Annaliessa knows she must produce an heir to the throne soon or be forever bound to her father's violent tendencies.
As all five princes compete for her affection, Annaliessa secretly hopes for a miracle that will carry her away forever. When an earthquake strikes Petroset, Annaliessa thinks her wish is coming true as she escapes in the arms of her hero, Tyson, who saves her from certain death. Oblivious to what is happening around her, Annaliessa is about to become trapped in revenge's web of lies and betrayal. Is one man's love enough to save her from the scars revenge leaves behind?
In this fantasy tale, temptation, sacrifice and the power of unconditional love fuel a journey of self-discovery for a young woman who only wants one thing: true happiness.
Character Profile: Q&A About Annaliessa
1. What is marriage like in Annaliessa's society, and who are her suitors?
Marriage is typically done around the age a girl has her first flow of blood.  For the royal class it is often not something that is done for love, but solely for producing an heir, which leads to arranged marriages.  Often for a royal descendant, they can postpone this marriage date a bit longer.  In this case, the curse has put everyone in a state of suspension, as there is only one princess and five princes, all needing a royal bride.  All of the princes are handsome young men, and are all willing to do their duties to their kingdoms.  Given that they have all grown up together, they are all friends.  There is one prince that is in love with Annaliessa, and has been since they were children.  Annaliessa, can't see any of them as more than friends, and thinks that any feelings they have for her are only a result of the curse.  Later in the story, this prince and her will share a unique bond that will set them apart from all others, and is the biggest kept secret of all.
2. How does she feel about her duties and responsibilities?
She is happy to help the people of her land, and kingdom of Petroset.  She wants the people she leads to be happy, even if she cannot be.  The one exception to this is the requirement that she must choose one of the five princes to marry.  She wants to marry for love, and not obligation (as her mother had done), and she has run out of time.  A decision must be made, as the four princes she doesn't choose will need time to find a suitable bride from another land and produce the one heir the curse has stipulated.
3. Who is Tyson? How does Annaliessa relate to him?
Tyson is the witch's son that put the curse on the royal families.  Tyson was horribly wronged as a young boy and Annaliessa's father, King Claude would do nothing to make it right.  This was the second wrong that was not corrected for this witch, and she made them all pay for it with the curse.  Tyson ends up saving Annaliessa during the earthquake in Petroset, but neither knows the identity of each other.  Annaliessa thinks he is the one she can love, and given her brush with death, a dragon, and a moment of freedom, she wants to explore this option with Tyson.  It isn't until her true identity is found out that she learns the terrible truth about this man she is falling in love with, and now he hates her with a vengeance.  She hopes he will see past his pain and allow her a place in his heart, but that is not possible.  He is the key to helping release the curse and she gives him what he wants in order to free everyone, even though it comes at a great price to her personally.
4. What type of curse has been placed on Annaliessa or her family?
That of only having the ability to carry one child.  Since they had to marry royalty, it left little options.  It made Annaliessa's father, King Claude, very powerful as the other kings vied for the right to marry his daughter.  He was power hungry, and he didn't want to give up that power, hence the reason he allowed Annaliessa to postpone choosing for so long.  As part of the curse, Annaliessa was bound to the five princes so that they were emotionally tied to her once they reached puberty, and were not free to marry another until she made a choice and released them.  The fact that they could only produce one heir also made it extremely difficult to arrange another marriage with other lands.  Other lands were afraid the curse would affect their lands, which made a marriage to Annaliessa the most important thing.  Annaliessa's father wanted to not only control his kingdom, but all the kingdoms of Miradel, and this curse was making it possible.
5.  Describe Annaliessa in three words.
Courageous, Self-sacrificing, Compassionate