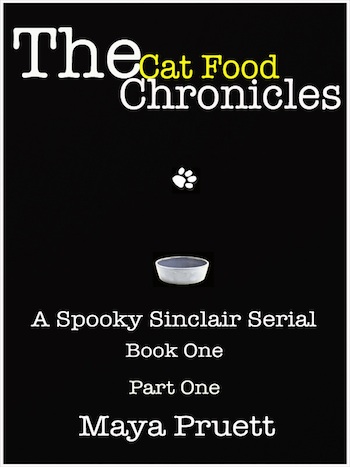 We're back for another Feature Friday! Today's feature is a deliciously fun mystery involving psychic sisters–and yes, their psychic cat, and a handsome detective. Please welcome author Maya Pruett and her Cat Food Chronicles:
Genre
Paranormal, Adult & Young Adult (16 & up)
Book Description
Following in the footsteps of Britney, Lindsay, and the likes, 
Callie Bryant, Hollywood's newest bad girl, comes to town 
as the lead in the much awaited Romeo and Juliet … the Rock Opera.

 When Callie actually dies on stage, Lily, Holly and Spooky (two
 psychic sisters and one psychic cat) get together with the irkily
 handsome, yet musically inclined Detective Richardson to solve the
 crime.

 Set in San Francisco, The Cat Food Chronicles is a story of
 cats, crime, cuisine, and laugh-out-loud comedy.
Q&A with Maya Pruett
How did you come up with your idea for the Cat Food Chronicles?


Well, my friend Tom who was a serious cat lover, who by the way just passed … Hi Tom luv ya! 
Anywho, Tom kept chiding me to take care of this little cat named Puka that needed a guardian for a bit while its mom was away. So, one day I was hanging out and this Puka came up to me looking all cute and fluffy. I remember (and this is all true) but I remember saying to her, "You ain't suckin me in kitty!" 
Well, she ignored me and laid down by my side and started purring her love right into my rib cage. It was a really trippy feeling and I took it as a sign to let her into my life.

 So basically, Puk's was the inspiration for the book, but the book started out as a poem called Pukahontas and can be found on my website. From the poem it turned into a book after I met this cat named Spooky, who by the way does have hair like I describe in the book. Interesting note, both these cats were owned by my friend Lily who was my inspiration for one of the twins.
Anyway, to make a long story short, Puky and I hung out for two years. She was so unusual and would follow me everywhere. For instance, one day I went down to the corner store, then on to Kaimana Beach a beach that I used to hang out at. Later that night about midnight one of my friends asked, "Where's Puky?" I looked around and then remembered she had followed me to the store that afternoon. I threw on some shoes and walk down to the store and sure enough, Puky jumps down from a tree and comes over and rubs on my leg. She had been waiting there all day thinking I was coming back from the store. She was such a trip, and boy do I miss her. Puky was really something. I'm quite sure she was sent to watch over me and ultimately inspire me to write this series.
Wow, thanks for sharing that. May Tom rest in peace, and Puka certainly seems like quite a character! I think Cat Food Chronicles has a very interesting premise. Can you tell us what sets it apart from other paranormal books?
Well, the first difference is that the cat is the narrator, her name is Spooky Sinclair, originally (St Clair) and she has awesome psychic powers. Another interesting fact is, she is related to Jesus. That's if you believe Dan Brown of The Da Vinci Code. I'm sure you remember in the movie, how the St Clair bloodline flowed all the way to our number one son.
Dang, this Q&A is getting more fun by the second. That cat is the narrator–yes! Please, go on…
Another difference, is that Spooky is a tomboy. This makes for mischief but the days go by faster. So, basically the character of Spooky Sinclair is the main difference, it's her world, you only live in it!
How cat like, yes?
I think fellow cat owners can vouch for that 🙂 Tell us about your main characters and why we'll find them interesting, or cool, or crazy.
The three main female characters beside Spooky are, Holly and Lily (who are twins) and their niece Tameron. All the girls have very powerful psychic abilities but the the twist is, their abilities are not totally developed. Some major psychic growth will happen in book two, which to me is very interesting. I love the fact that they need to grow in order to fulfill their purpose.
What's cool is their jobs. Holly and Tameron do hair for film, television, and print, but their main source of income comes from their salon and day spa The Spyder and The Fly where they are developing their own product line called The Chrysalis Cosmetics and Hair Care Collection.
Then there's Lily's Beeline, which belongs to The Chrysalis Fly and Spy Wear Collection. Lily is a designer and designs rock-n-roll clothes for rock bands.
As far as the crazy part goes. I'd say read some of the reviews or just look inside. The book is totally ridiculous and it's apparent by the third paragraph. Since we like crazy, this is a good thing. Mostly though, I want you to love the characters for all their goofiness and I want you to write reviews like the one I just read that says, "More Spooky Please!"
It's coming up on my TBR list! How many books are in the CFC series so far, and do you plan to write more?
There are three that I have in my head. There maybe more, but right now I'm just focusing on book two.
What are you reading right now, and who are your favorite authors?
Right now I am reading a book called Blood Bound by Scottish indie author Sharon Stevenson. Her dialogue is really good, so good I want to steal her style, but I won't. As to your question about favorite authors, there are too many to choose but here are a few. Christopher Moore, Janet Evanovich, Pat Conroy, Judy Blume, Nelson DeMille, and John Dennis Fitzgerald of The Great Brain series.
Thank you, Maya, for stopping by and sharing your time with us. I'm in the mood for a laugh-out-loud paranormal story, so I'm looking forward to starting your series. Readers, I'll leave the deets below so you can find out more about The Cat Food Chronicles.
Find The Cat Food Chronicles @ Amazon