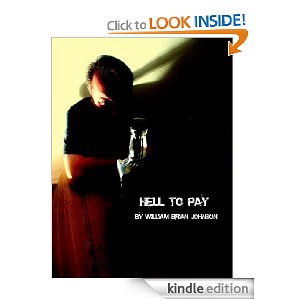 They always say nothing in life is free.
If someone gives you something, they usually expect something in return–your gratitude, a reciprocal favor…and in some cases, your soul.
William Brian Johnson draws you into his novel, Hell To Pay, with a great main character who is able to match the intense and eerie plot that's sure to capture your imagination.
I'm currently reading this (thanks, Brian!) and I've been hooked from the beginning. A full review will be forthcoming.
A man who thinks he's losing his soul, meets a man who has.

Detective Michael Bailey is a seasoned homicide detective who can't escape the deaths of twin girls that happened on his watch. Over the years, it had slashed at his sanity and sobriety, and now he stands at the crossroads of his life. The murder investigation of a young woman sends him over the edge.

George Graham is an antique store owner who has fallen for the wrong woman. When rejected and berated in public, George runs home to find a strange old man with an antique box wanting to make a deal. George buys the box and inside finds a matted scalp, a relic of untold power.

"Hell to Pay" is a haunting story about the loss of one's life, redemption, and personal sacrifice. This supernatural thriller is strongly based in Joseph Campbell's epic storytelling and mythology.
Don't be shy, stop by Brian's Facebook page: http://www.facebook.com/pages/Hell-to-Pay-William-Brian-Johnson/270223159609
Check out his Blog: http://fatherthunder.blogspot.com/
Follow him on Twitter: @WeatherViking