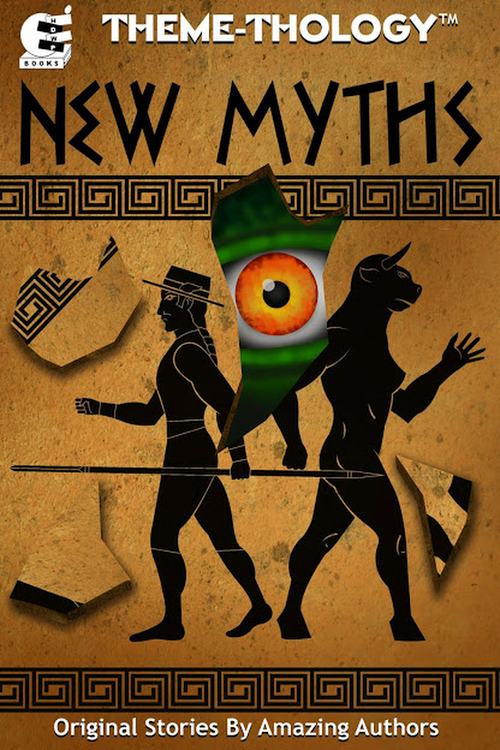 If you love mythology, enjoy strange creatures, foreign worlds, badass Greek gods, and then some, you are going to want to grab a cup of tea and cozy up to this collection of short stories.
I am both excited and pleased to have had the opportunity to team up with some amazing authors and a very patient and visionary publisher. HDWP Books has released its newest anthology, NEW MYTHS, and inside you'll find my contribution–"The Black Dagger Gods."
I have to tell you all, this was a tough one for me. The deadline stared me in the face, and I wasn't sure if I could make it (those of you who've been following my blog may remember that I had just come home from the hospital with a new baby). Let me tell you, writing a story at 11pm while on pain meds is not my ideal—but I did it!
Thank you, readers, for following me and putting up with me, and for supporting my books and writing. You are AWESOME. Thank you, my fellow authors, who encouraged me and challenged me. Thank you, editors!
So we're kicking off the release of the anthology by launching our Six Bucks campaign. Please take a quick look and find out how you can enter the contest and score some cool books and perks: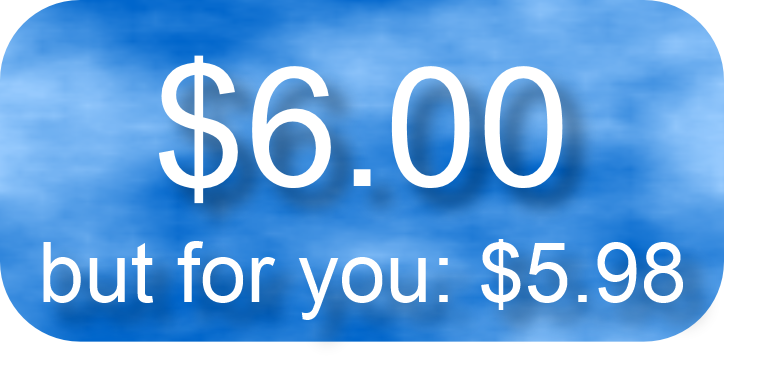 I need $6
You are all nice people. I'm sure if I asked you for $6, just because I needed it — or even just wanted it — a lot of you would reach into your pocket. I'm not asking for me. Well, not exactly for me…
Here's my problem: I need to jumpstart the sales on Theme-Thology. These are really good books but we aren't visible enough. Can you spare $6 to help 18 authors?
A Promise
From now until April 21st, if you buy the first two Theme-Thologies (total: $5.98) and post a review of either of them (on Amazon, B&N, or Kobo, or GoodReads), I will send you the first eBook from our new science fiction series: Interrogative: Tiago and the Masterless. Just post a link to the review in the form near the top of this page and the book is yours.
A Prize
Additionally, from now until April 21st, if you buy any of the first three Theme-Thologies ($2.99 each), I will enter you into a drawing to win one of the following eBooks: one of five different Mike Reeves-McMillan books (City of Masks, Hope and the Patient Man, Hope and the Clever Man, Realmgolds, Gu), A Noble's Quest by Ryan Toxopeus, Adjacent Fields by Charles Barouch, or The Tower's Alchemist by Alesha Escobar.
Just buy the Theme-Thology of your choice and post a reply using the form near the top of this page.
● Already bought them? Post a review (on Amazon, B&N, or Kobo, or GoodReads) and I will send you the first eBook of our new science fiction series: Interrogative: Tiago and the Masterless and put you in the drawing. Just post a link to the review using the form near the top of this page.
● Received the Adjacent Fields signed, limited edition print book at Spectrum 2013? Post a review (on Amazon, B&N, or Kobo, or GoodReads) and I will send you the first eBook of our new science fiction series: Interrogative: Tiago and the Masterless and put you in the drawing. Just post a link to the review using the form near the top of this page.
Details About the Prizes
About City of Masks by Mike Reeves McMillan

City of Masks is a swashbuckling adventure in a setting reminiscent of Shakespeare's Italy (complete with twins). In the city-state of Bonvidaeo, by custom and law everyone must wear a mask and act in character with it, or face civil, social and religious penalties. Gregorius Bass is sent to Bonvidaeo as the Envoy of Calaria, primarily to get him out from underfoot. Masked as the Innocent Man, and in the company of his radical young Bonvidaoan servant, Bass stumbles into mystery, intrigue, heresy and murder.
About A Noble's Quest by Ryan Toxopeus

Thomas and Sarentha flee everything they know when Thomas murders a co-worker. In the dead of night, a cloaked noble approaches and offers them a sum of coins they cannot refuse. His sole request is for the pair to retrieve an amethyst from a tomb.
From there, they are introduced to Eliza, a spirited and head-strong noblewoman who proves her competence with her skills in diplomacy and combat. Together with Thomas' strength and steadfastness, and Sarentha's drive and inquisitiveness, the trio makes an odd but capable group.
Their adventures take them across the lands of the Tamorran Empire to witness sights they never imagined. With grand plans in motion, everything hinges on Thomas, Sarentha, and Eliza's success. Artefacts need to be crafted, alliances need to be formed, and above all, secrets need to be kept. Not even their own allies know every facet of the noble's quest, and he plays a dangerous game by creating plots within plots.
Can the disparate trio hold together throughout their trials? What secret does the noble know that causes him to go to such extraordinary lengths to succeed? Dark shadows blanket the Tamorran Empire, and illuminating those secrets will bring a terrifying truth.
About RealmGolds by Mike Reeves-McMillan

The Human Purity movement is growing in power and influence in Denning, attacking dwarf businesses and caravans and inciting popular rebellion against the central government, with the passive or active support of many of the ruling Golds. Opposing them almost alone is the Realmgold, a young man named Determined. His problem is that, even though the Realmgold is meant to be in charge, nobody is paying much attention to him. Victory, who rules neighbouring Koskant, would love to support Determined, but an ancient magical treaty between their realms means she can't send in her troops, her skyboats or her pressure guns. What she can do, though, is share a new magical communications technology – and her elite corps of Gryphon Clerks…
About The Tower's Alchemist by Alesha Escobar

Wizard Vs. Nazi Warlock Vampires.
It's a very different World War II.
The Nazis have unleashed occult forces throughout Europe and the Allies are forced to recruit and employ wizards to counter their attacks. Among them is the battle weary spy, Isabella George, a Gray Tower dropout trained in Alchemy. Longing for retirement and a life of peace, she accepts one final job-extract a deadly warlock from Nazi occupied France and prevent him from unleashing an alchemical weapon that will devour the continent.
But France is crawling with the Cruenti, vampiric warlocks who feed off other wizards. When things don't go according to plan, one Cruenti sets his deadly eyes on her.
Betrayal is everywhere. Even some of her closest allies cannot be fully trusted. Worse still, she finds, she can't even trust herself. She becomes a woman torn between her charismatic spy lover who offers her what she desires most, and one of her closest confidants, whose soft seductive eyes hold deadly secrets about her past, and the Gray Tower itself.
Plans within plans. Plots versus counter plots. Heists gone wrong, sword-wielding Catholic priests, and the greatest manipulation of history that has ever been seen, is just a taste of what Isabella George is in for, in her final mission.
About Hope and the Clever Man by Mike Reeves-McMillan

An act of powerful magic in a moment of rage almost destroys Hope's magical career before it starts, leaving her even more determined to prove her worth.
Her chance comes when she's assigned to work for the eccentric inventor known as the Clever Man. The magical technology they create together could change the course of a war and help an oppressed people plan their revolution, but wealthy and powerful interests will fight to put it down any way they can.
About Hope and the Patient Man by Mike Reeves-McMillan

When a promising date ends in head trauma and ruined trousers, Hope must confront the curse she accidentally placed on herself at the end of her first relationship. But can she do so while also qualifying as a Senior Mage, solving the mystery of her parents' toxic marriage, and helping two awkward friends communicate – all while periodically blacking out?
A love story, with engineering. About – and for – smart, nerdy women and the men who adore them.
Content warning: While it does not depict sex directly, this book does contain "adult situations" and what one reader has described as "delicate eroticism". If you are uncomfortable with these elements, this isn't the book for you.
About Adjacent Fields by Charles Barouch

Science Fiction set in today's world, not tomorrow's. What really happens when truly disruptive technology shows up? Rama has — real, demonstrable, and working — teleportation. What happens when investors, governments, and thieves wrestle for control of it? How far will Brother Weave go to stop it? How does this technology link a piano virtuoso, a con man, a dead girl's brother, and a grocery clerk to a deranged monk and the man who keeps escaping from a mental institution?
About Gu by Mike Reeves-McMillan

When Callie Arnold and her team invented Gu, they were inventing the last manufactured thing. Because Gu can take any shape, turn into anything you want.
Fifteen years later, follow documentary maker Susan Halwaz as she interviews the creators of Gu – and the people whose lives their creation has changed, from military veterans to gamers to teenagers.
About Interrogative: Tiago and the Masterless by Charles Barouch

Thief. Programmer. Subversive.
Tiago has stolen the Interrogative, the most advanced ship in Earth's fleet. With only the ship's computer and Audra, a holographic interface made physical, for company, he's going slowly mad. He needs more. He needs people — no matter how loosely defined the term. He finds a planet with signs of civilization: A lush world full of farms. But what will the alien inhabitants, the Masterless, think of Tiago Salazar?
All of you generous people will be thanked in the back of eBook Interrogative: Tiago and the Masterless.