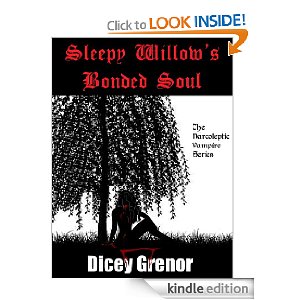 In Dicey Grenor's Sleepy Willow's Bonded Soul, vampires are the predators and we are the prey. They're hungry, seductive, fast, strong…and narcoleptic?
Willow's got a problem. She suffers from narcolepsy, and so devises a plan to heal herself by becoming a vampire. However instead of freeing herself from this limitation, it turns out she just becomes a vampire with a most unusual handicap.
Oh, and throw in the fact that vampirism is illegal and she has to constantly watch her back, her kinky adventures in a fetish night club she works in…and breaking her bond with her sexy (but scary) vampire maistre–this story will take you on a wild ride.
I snagged a copy myself, and so a review will be forthcoming 🙂 I know I'm in for something crazy, daring, and likely to make me blush.
To get yourself a copy, just click on the book icon. Sleepy Willow is available in both paperback and ebook (Kindle) format.
Ever since vampirism became illegal, the undead have been hunted to near-extinction. So Willow has to watch her back to make sure no one finds out what she is. And that's not easy considering she's a vampire with narcolepsy. Predator can become prey at any moment, especially with the skillful Vampire Extermination Team (VET) on the job.

Hoping to blend in with the nightlife, Willow takes advantage of being an animated corpse by performing for necrophiliacs at premiere fetish club Hades. Here, she discovers colleagues with other supernatural secrets. She's also unexpectedly drawn to Remi, her most loyal fan, despite his deviant sexual nature and personality disorder. But succumbing to her lust is not a good idea since her maistre vampire forbids it.

Now Willow has to outsmart VET agents, escape bounty hunters, and find a cure for narcolepsy…or vampirism. And she's got to break the bond with her maistre, no matter how powerful and unrelenting he is.

Most importantly, can she stay awake long enough to do any of it?

***BEWARE: BAD LANGUAGE, GRAPHIC SCENES, AND GORE ABOUNDS.***
Visit Dicey's Blog: http://diceyblog.wordpress.com/
Check out her Facebook page: https://www.facebook.com/DiceyGrenor
Follow Dicey on Twitter: @DiceyGrenor