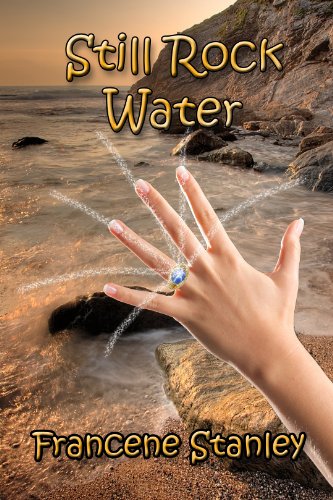 Today's Feature is Still Rock Water, by Francene Stanley. I've had the pleasure of blog touring with Francene, and she is one of the most sincere and helpful people I've ever met! I'm not surprised that her book draws us into a world where a woman is able to step past her pain and obstacles in order to help others–with a supernatural twist.
Genre
Paranormal, Fantasy
Book Description
Wearing an inherited ring, Liliha witnesses a flood on the other side of the world. With her thoughts, she guides bystanders to help the victims. Back in her own kitchen, she dismisses the strange vision as a dream. However, she then hears coverage of the disaster on the overseas news.
Despite her unique ability, which grows stronger with each vision, Liliha is powerless to change her depressed, belittling husband. Betrayed, she takes her daughters to Cornwall where she meets her childhood friend Oliver and his spiteful girlfriend. Back home, her husband wants a divorce and has arranged full-time boarding for her teenage daughters. Worst of all, she's lost her ring on the trip. She returns to St. Ives to begin a new life.
The police discover her ring on a washed-up body and send it to the British Museum for assessment. Liliha learns the ring once belonged to the god's wife of Amun. A friend relaxes her into a regression where she recalls her former life as the Egyptian priestess.
She worries that Oliver might, like her first husband, want to control her. Loneliness eats away at her spirit… the ring has helped others, why can't it help her find solace?
Find Still Rock Water @Amazon
Follow Francene on Twitter
Francene's on Facebook too!