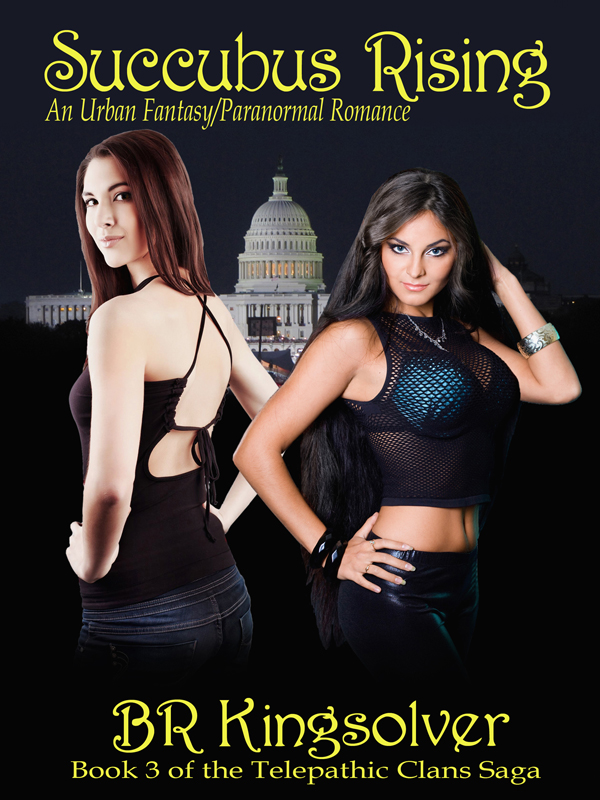 Today's feature is BR Kingsolver's SUCCUBUS RISING, the third book of the Telepathic Clans Saga (telepaths are so cool! :-))
What I love about urban fantasy most, is the idea that just beyond the corner or through a dark alley there could be something magical…dangerous. The Telepathic Clans Saga is an Urban Fantasy that introduces us to an ancient goddess who bestows gifts on humans in a modern world–and how they deal with it while navigating the goals, relationships and dangerous alliances surrounding them.
Book Description
The history of the Clans, called the Sidhe by the Irish, stretches back to antiquity. The Goddess blesses Her people with 25 Telepathic Gifts. In addition to Telepathy, the Gifts include command over Air and Fire, Telekinesis and Teleportation. In over 2,500 years, She has never bestowed more than 15 Gifts on a single person.
The Goddess has plans for Brenna and Rebecca, and the Goddess has a wicked sense of humor.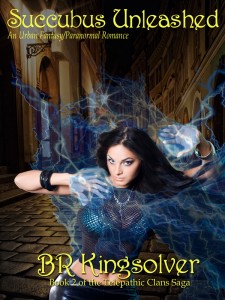 Rebecca Healy is a true wilder, growing up with no contact or knowledge of other telepaths. Discovered by a Clan member on the streets of San Francisco, she felt like she'd hit the jackpot. Finally, she knew what she was, or at least she thought she did.
When Brenna O'Donnell, long-lost heir of the O'Donnell Clan, and the strongest telepath in history, is returned to her family, she and Rebecca form a tight bond. Brenna has it all, looks, money, power, and men falling all over her.
Rebecca isn't jealous, but it would be nice to find someone who would really love her and stick around in the morning. She's intrigued by a handsome South American general, but of course, he has his sights set on Brenna. Carlos de Vargas wants more than love. His Clan has its back to the wall, and they hope for an alliance with O'Donnell. An alliance that would lead to war.
The story began in The Succubus Gift and continued in Succubus Unleashed. In Succubus Rising, questions are answered and new mysteries are revealed.