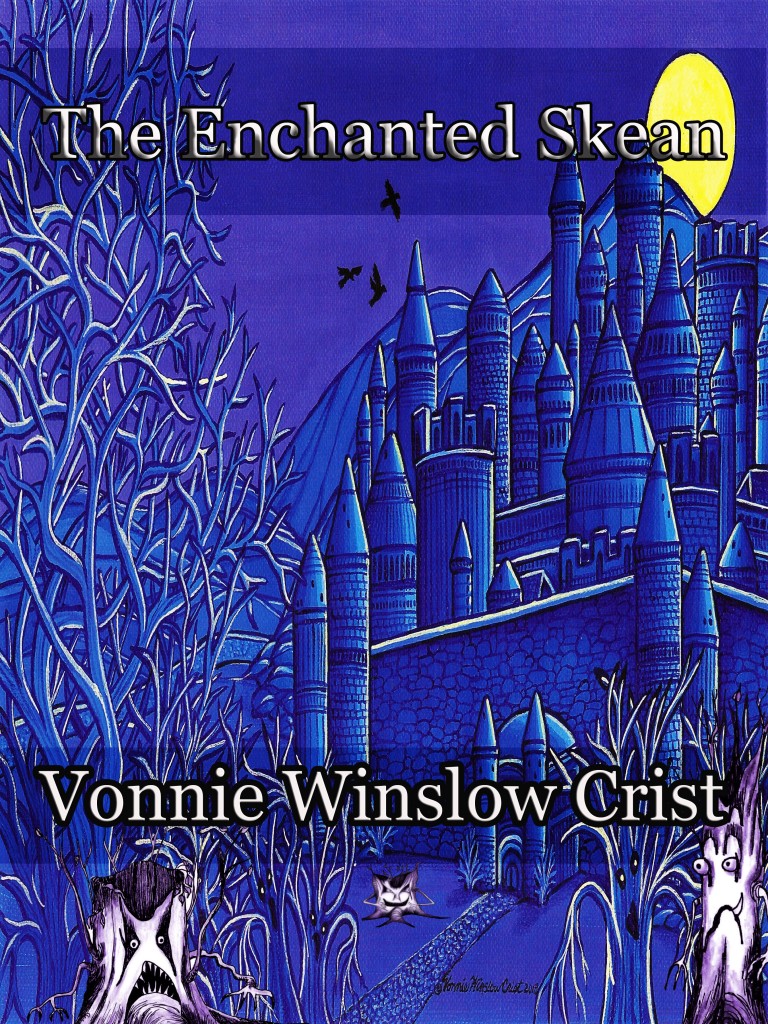 Today's feature is The Enchanted Skean, by Vonnie Winslow Crist. If you enjoy YA Fantasy, then you'll definitely need to check out this story. And did I mention that I scored an interview with the author? I've got some fun details on this magical fantasy book, so read on!
Genre
Young Adult Fantasy
Book Description
The Enchanted Skean – Book I of The Chronicles of Lifthrasir is a 430-page, Young Adult fantasy novel filled with action, adventure, and magic. 14-year old Beck Conleth is living a quiet life in the seaside town of Queen's Weather when his grandmother sends him on a journey to Ulfwood to retrieve his father's bones and a family skean (dagger). After reaching Ulfwood, Beck discovers the skean is magical, and that it answers only to him. Soon the enchanted skean and its owner attract the attention of dark mages, goblins, and worse. Helped on his journey home by wisewomen, warriors, shape-changers, and the other good folk of Lifthrasir, Beck faces death, danger, and the theft of his skean.
Accompanied by his best friend, Beck stows away on a ship, takes back his skean, befriends a dragon, and escapes with a troop of retrievers of stolen items. After reaching a dock in West Arnora, the company heads for the fortress of Ravens Haunt. As Beck and his companions face a hideous Skullsoul and an army of ogerhunches, he realizes there is a developing confrontation between good and evil, and he and his enchanted skean have a role to play.
 Read an Excerpt!
Connect with the Author
Follow Vonnie on Facebook
Tweet With Vonnie
Interview with Vonnie Winslow Crist
Describe Beck (the main character of The Enchanted Skean) and why he must set out on a journey to retrieve his family's skean.
Beck is fourteen years-old orphan, living with his grandmother in the rural outskirts of a seaside town. He describes himself as "average in weight, height, and appearance. His dark hair was neither curly or straight, thick or thin, nor long or short. He had no freckles, no scars, and no brothers or sisters." He can read and write, but knows "no one could tell such a thing by glancing at him." He believes himself "forgettable," except for his eyes which are different colors. But few people notice his eyes, because he "always choses to remain on the fringe of a crowd, never in the center of the action." Like many of us, Beck doesn't believe himself exceptional in any way.
His grandmother sends Beck on a journey to Ulfwood to retrieve his father's bones and a family heirloom, a boot dagger called a skean. His father was murdered and buried in that town years ago, and before she dies, his grandmother is determined to bring her son's bones home to be buried in the family graveyard. It is a surprise to all when the skean turns out to have a bit of magic.
What is a Skullsoul?
In The Enchanted Skean, a Skullsoul is the worst enemy Beck and his companions must face. I wanted to create a truly monstrous creature who is not twenty feet tall, but man-sized. Skullsouls are hulking creatures who capture the spirits of their enemies and store those spirits in skullboxes. They wear long strands of skullboxes under their robes and when they need a slave to fight, they place a skullbox in a body (living or dead) and the spirit then gains control of the body. Of course, the Skull controls the spirit. Skullsouls have a huge head set on a thin neck. Their eyes are multifaceted like the eyes of a bee and their mouth is at the end of a long snout. The ant-like mouthparts of a Skullsoul work back and forth creating, then shaping, a mucus ball into a new skullbox. After a Skull hypnotizes an enemy, they seize his or her spirit and place it in the newly created box. Each skullbox is oval, white, has two dark eyes peering out, and a small black mouth that opens and closes as if crying out for help. I designed Skullsouls to be evil and repulsive!
How does the magic or mythology of your world differ from other fantasy stories?
When writing The Enchanted Skean, I tried to both acknowledge the fantasy worlds constructed by some of my favorite authors and create new races and creatures for my world: Lifthrasir (from a Norse name that means "she who holds fast to life.") As an avid reader of myths, legends, folklore, and fairytales from many cultures, I wanted to draw upon those while also creating something entirely new.
 I think the Janepar, a short, stout, argumentive race of warriors who ride war bulls, have watch-cats, carry a multitude of weapons, and are suspicious of magic are an interesting race. Likewise, I think Rufins, small, rude, goat-riding, red-haired "retrievers of previously stolen items" are a bit different from the usual races seen in fantasy adventures. And my favorite goblin-type creatures are ogerhunches. The term references an old English name for a bogie, but my green-blooded ogerhunches look like forest debris, shamble along, try to knock their opponents to the ground, and suck out a fallen enemy's fluids with their roots. I think the abandoned fortress of Ravens Haunt with its sentient wall, difficult locks, underground structures, and battle-ready talking ravens is an interesting location.
There is also a larger mythology and magical system that is essential to the developing confrontation between good and evil. I tried to give each individual in a group such as mages, wisewomen, shapesifters, and goblins a personality and personal agenda. As a reader of fantasy, I like to be able to see the diversity and richness of the characters, towns, creatures, and magic-wielders in a book. I think my readers expect the same from me as a writer.
 Do you also write adult fantasy?
Is The Enchanted Skean (YA) different from other types of books you've written? Yes, I do write speculative (science-fiction/fantasy) fiction for adults. In fact, The Enchanted Skean is a YA/Cross-Over novel – meaning is should be enjoyable for adult readers as well as the young adult audience. I've written and illustrated: 2 collections of speculative short stories, The Greener Forest and Owl Light; a children's book, Leprechaun Cake & Other Tales; 2 collections of myth-based poetry, River of Stars and Essential Fables; and several eShorts – 2 of which are still available, Blame it On the Trees and For the Good of the Settlement. The Enchanted Skean is my first novel, and at over 95,000-words, my longest book.
What do you think readers will like most about the story?
I think readers will enjoy the fully developed fantasy world in which the story takes place, the sense of adventure and danger that moves the story forward, the battles and other action, and the unique characters and races who populate the novel. I also think they'll enjoy watching a boy who thinks himself forgettable grow into a memorable hero. And the magic is fun, too!
Will you develop this into a series?
I hope The Enchanted Skean is the first novel in an epic fantasy series. With that goal in mind, the full title of the book is: The Enchanted Skean – Book I of the Chronicles of Lifthrasir. I suspect sales, reviews, and developing a reader base will have the final say as to whether or not more books about Beck and his comrades will be published.
Who are some of your favorite authors in your genre?
I've enjoyed reading myths, legends, fairytales, folklore, and fantasy since I was young, so there are many authors who are on my favorites list. But if I had to choose a few, they'd be JRR Tolkien for The Hobbit and The Lord of the Rings, CS Lewis for The Chronicles of Narnia (The Lion, the Witch, and the Wardrobe remains my favorite), Andre Norton for her Witch World series, Anne McCaffrey for her Dragons of Pern series, and JK Rowling not only for her Harry Potter books, but for bringing so many young readers to fantasy. The thing all of these writers have in common is they created one-of-a-kind, believable, well-developed, magical worlds that readers want to inhabit. I was one of those readers, and now, I'm hoping to build my own magical universe for other readers to enjoy.
Thanks so much for stopping by, Vonnie! We look forward to hearing more of The Enchanted Skean and your other stories.