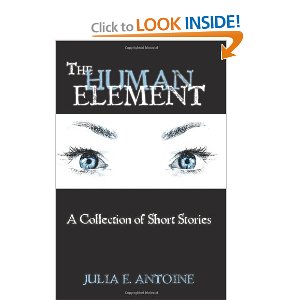 Julia Antoine has had her short stories featured and read on radio shows, and she gladly writes in more than one genre.
Her short story collection, The Human Element, takes you through diverse glimpses of the human experience that will leave you laughing, inspired, and wanting more.
What's fascinating about her writing style (according to reviewers) is her ability to develop and expose characters, and the raw emotions they can evoke.
Whether it's love, joy, pain, or even the question of sanity…readers will find this collection of short stories engaging.
All the stories in this collection have a strong human element, hence the title: Share in the joy and pain of first love with Millie and Craig as they discover the thrills of love at first sight in, A Wonderful Piece of Dark Mahogany. Feel the power of human goodness in, A Mother's Miracle, when help came from the most unexpected sources. Feel the heat of the island in, The Peanut Cart Vendor, and experience her struggles to eke out a living under extreme circumstances, while she found love so unexpectedly. Read a first-hand account of The Power Of The Mind, which tests Ruth and Sonia's friendship and see how they triumphed after all. Immerse yourself in the delusional mind of Henry, as he grappled with The Thin Line between fiction and reality.
Intrigued? Then snag a copy of the Kindle version at Amazon!
Check out Julia's romance stories and children's books: http://redroom.com/member/julia-e-antoine/books
Visit her personal blog: http://juephraime.blogspot.com/
Follow her on Twitter: @EditorJulia