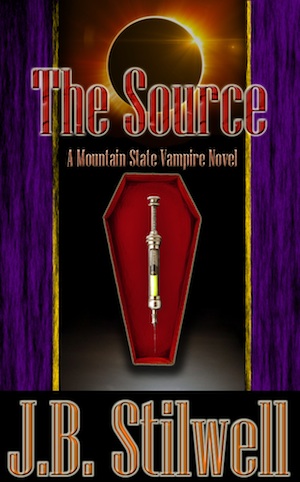 Author J.B. Stilwell's The Source (A Mountain State Vampire Novel) embodies an intriguing concept: vampires stepping out into the light (so to speak) and deconstructing the common myths we've always had about them. And to the vamps, this is necessary–they're trying to save themselves from extinction. J.B. stopped by to chat with me about the book, why she likes writing paranormal stories–and which of her characters would be her partner-in-crime if the Zombie Apocalypse went down.
Book Description
Emma Burcham is a human scientist working on a project for the Federal Office for Human and Vampire Administration, a U.S. government office created to deal with paranormal crime that the regular correctional system just can't handle. She's paired with scientist Rick Allstedt who just happens to be of the fanged sort. Together they work to uncover the source of vampire mortality for crime prevention – and if they succeed they will be $50,000 richer.
Genre
Paranormal Romance, Paranormal Thriller
Author Interview
Q. In the world of The Source, vampires are given legal status. How did this come to be, and how does your protagonist, Emma, feel about it?
In the world of "The Source," vampires went public basically out of necessity. There were certain extremists groups who were convinced of their existence and set out to eliminate them. Various individual vampires started going public as a means to garner support from empathetic humans. Things were hard for vampires at first, but slowly, they began establishing themselves as productive members of society, showing how they contribute in this would, and eventually gained widespread acceptance. Interestingly, extremist behavior was a reaction to vampire "myths" – and vampires used those same myths to "hide" from humans. Example, extremist groups would spark fear in humans about how vampires were soulless creatures that feared the cross. In turn, vampires played on this same myth to mix among humans. They could say, "Look, the cross doesn't bother me, so surely I'm not a vampire."
Emma is very open to interacting with vampires. Being a scientist she's quite curious about them, in an almost clinical sense. At the same time she quickly realizes that she doesn't know much about them. She has to adjust how she thinks about vampires because she quickly realizes that many of her assumptions about vampires are completely untrue.
Q. What are vampires like in the story? Do they deviate in any way from the traditional vampire myth?
In "The Source" the vampires deviate significantly from traditional vampire mythology. They're very human. One review on Amazon states that the story is the most "realistic" vampire story. One thing readers will learn in upcoming books is that the vampires in "The Source" are just one type – there are others which will be explored as the story continues.
Q. Are you planning a series? If so, what can we expect from upcoming books?
"The Source" is the first novel in my Mountain State Vampire series. I'm currently working on the second novel in the series, "Mining the Dark," which is scheduled for release in Spring 2013. Through the series readers can expect to learn more about this particular type of vampire, including other paranormal creatures. Also, the stories will continue to interweave Appalachian folklore/tradition/superstition with the main plot. Just given the culture of Appalachia, readers can expect a heavy Scotch-Irish influence to many of the story arcs. This could include anything and everything from common West Virginia ghost stories to the fae and banshees.
Q. What do you like most about writing paranormal fantasy?
The main thing that I like about writing paranormal fantasy is the ability to use the tableau as a way to address real life issues – particularly social issues. One of the things that I've always appreciated with the classics, such as "Frankenstein," and even the science fiction genre, is the ability to use this type of fiction to delve into the different aspects of the human condition in a "safe" manner. Writing in this genre, I can talk about difficult issues, even things that are taboo, but it's not as shocking because I'm directing it through vampires and the paranormal. It's almost like literary role playing therapy for the masses – a way to address issues in a more objective way that allows the readers (and author) to see all sides – even the grotesque sides – without the feeling of guilt that is usually associated with those thoughts or behaviors.
Q. What are you currently reading?
I'm currently reading "Hidden" by P.C. and Kristin Cast. The House of Night series is one of my favorites! I also love The Vampire Academy, Rachel Morgan, Dark Hunter, Anita Blake Vampire Hunter and The Black Dagger Brotherhood series.
Q. If you had to live through the Zombie Apocalypse, which character from your book would you want to be your survival partner?
If I had to live through the Zombie Apocalypse I would definitely want Bree Vinh with me. She's a vampire, so she does have a lot more strength than me. Plus she's quite ruthless in her view of humans, so I imagine she would think even less of zombies and show them no mercy. Then again, maybe that's not such a good idea. Me being human, she would probably be willing to use me as canon fodder.
Q. Oh my…canon fodder. Bree no doubt sounds like an interesting character. So tell me, as an author, what advice would you give to an aspiring writer who hasn't yet published?
The best advice I could give to an aspiring writer is just write. Coming up I made a lot of excuses not to write – I don't have time, I won't get an agent so what's the point, I need to focus on a different career, etc. Guess what happens when you do that? You don't write and you don't have anything – not even part of a manuscript – to see how successful you can be. And in this world of indie publishing, it's so much easier to get your work out there as compared to agency publishing. So, just do it! Write and get it out there. In today's world, if you don't do it – even when your heart really wants it – then you're really the only one standing in your way.
Sage advice! Thanks so much, J.B. We look forward to seeing more of your work. Readers, you can catch J.B. online and check out her books at the following links: