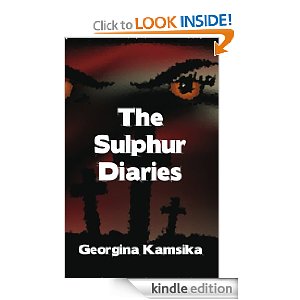 How would you feel about living in a town sitting on the Gate of Hell?
Talk about property value going down!
Well, in the devilish and fun thriller The Sulphur Diaries, author Georgina Kamsika tells us what it's like from Alice Murphy's perspective.
And let me tell you, there's no Virgil here to guide you through nor do I think you'd want to be anywhere near the Gate of Hell in this story. As mayhem ensue and the townspeople fall prey, Ms. Kamsika paints a frightful (yet intensely interesting) picture of what it would be like to stay out of trouble in a hell-infested town.
The Sulphur Diaries Excerpt:
"There is blood everywhere, on the walls, on the tables; I'm not sure what I just stood in, but it's slippery.

Johnny! I scream, to be heard over the racket from outside, but there's no answer and I can't see him in the dim light. There's a wet thump against the outer wall, though I daren't look out of the windows. If I do, I might never be able to look away.

The shrieking outside is like nothing I've ever heard, and I freeze. Clenching my hands to stop their trembling, I peer into the gloom. Soft red light from some torches show me nothing but a puppet-show of shadows fighting outside. I recognise some of the locals: Mr Higgins, the Croft twins, their shapes easy to pick out as they struggle against the imps.

There seem to be more of them now. Where are they coming from? I remember calling to Lyle – not even an hour ago, however much it feels like days – but why are these imps attacking, why–"
I've started this chilling story already, so a review is forthcoming 🙂
If this sounds like your cup of tea, then hop on over to AMAZON and purchase a copy.
Georgina's website: http://www.kamsika.com
Georgina's Twitter handle: @thessilian
_________________________
This friendly Feature Friday book has been brought to you by Alesha Escobar. I'm having so much fun doing this that I'm opening up Feature Friday for any author who is interested in having his or her novel featured. Just email me your name, book title, website, Twitter handle, and a blurb 🙂 My contact information is on my CONTACT page.