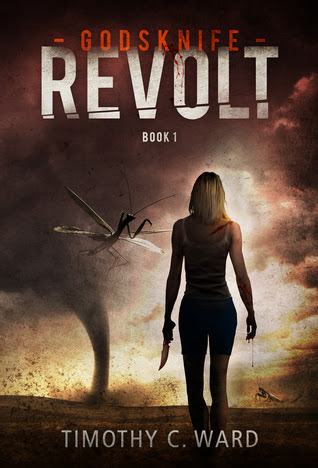 New Release by Timothy C. Ward
Godsknife: Revolt (Book 1)
An apocalyptic battle for godhood in the rift between Iowa and the Abyss…
A fleet of enlarged praying mantises have invaded Des Moines, Iowa. Swarms of cicadas are turning survivors into winged soldiers. Orchestrating the war zone is a priestess of Order, who's pursuing godhood, and the nation of followers who'll get her there.
Caroline's new friendship parts the veil between reality and myth, as a recruiter of Order needs her to hide him from capture. In their escape, the boss she's loved like a father reveals his elevator into the Abyss.
In this new world, Caroline finds a usurped god and an angry ghost eager to make her their gateway back to power. What if the person her friends will need is heartbeats away from becoming the real threat?
Release Date: August 22, 2016
***
I'm so hyped to be sharing Timothy C. Ward's newest release. He already has a phenomenal time travel story in Masters of Time, and his Scavenger series is top-notch. Godsknife is already on my reading list, and I know it won't disappoint.
Oh, and in case you want to join in on the fun, we have a little Readers Olympics challenge for readers interested in a little friendly competition (participants can get an ebook of their choice from the author himself! Sweet!). Just answer the questions below (either in the comments section here or at Timothy's website) and if you want, send them to a friend and challenge them 🙂
So, first event: swordplay. Name the greatest swordsman or woman that you've read and why?
Magic: Best spell you've read.
Magic 800 meter relay: What was the magic system that blew the rest out of the water and why?
Magic 200 meter freestyle: This book wasn't as epic as the 800 meter, but it's economy of awesome and ingenuity per page ratio stands out above the rest.
100 Yard Sprint: Fastest book you've ever read and why?
Track and Field: Story with the greatest land campaign and why?
Water Polo: Best story that did what? in water.
200 Meter Beaker Relay: Baddest Mad Scientist on the Track.
High Dive: Character who went from the highest of highs to the lowest of lows.
Balance Beam: Character who had to twist and tip toe to get though the ringer of his story without falling off the edge.
Carry the Torch: Best example of someone weaving their worldview into a story without preaching alternate viewpoints out of the story.
Save
Save
Save