Today you're along for the ride with me. There's an awesome blog tour going on with the Kingdom on the Edge of Reality, and this is one of the stops 🙂

I had the pleasure of reading the book, which was given to me from the publisher, and I've got the details and my thoughts below:
Book Description
Sometimes it's funny how fast things can change, and sometimes it's not . . .
Welcome to Albert Keane's beautifully designed medieval kingdom nestled in a completely isolated river valley in the Canadian wilderness. Peaceful, happy, and prosperous, it takes nothing from the modern world, not so much as a single clock.
There is a castle, of course, and a monastery. There is even a pitch dark, rat-infested dungeon – because you simply have to have one if you are trying a rule a feudal kingdom!
Farmers work the land, artisans ply their trades, monks keep school and visit the sick, and nobody (well, almost nobody) misses the modern world at all.
So why has Jack Darcey – actor, wanderer, ex-competitive fencer – been tricked and seduced into paying a visit? And why hasn't anyone told him that the only way to leave is a perilous trek across hundreds of miles of trackless wilderness without a compass or a map?
Because a tide of fear and violence is rising from the twisted ambitions of one of King Albert's nobles, and Albert's fortune teller believes that Jack could turn the tide – if he lives long enough . . .
Seamlessly blending medieval and modern elements, The Kingdom on the Edge of Reality serves up a heady brew of action, humor, romance and satire in a kingdom set apart in time and space where reality is the dealer's choice.
My Review
From the beginning I was intrigued with Jack Darcey. He's not a guy out for attention or to accomplish great deeds, yet he finds himself the center of attention when an old school mate (Albert) whisks him away to a rather unique setting–a secluded Medieval castle/town–in modern day Canada.

It's definitely a culture shock, because "King" Albert and those living with him aren't merely playing at being Medieval and hanging up their hats at the end of the day–they endure without doctors, electricity, and the contemporary amenities we know and love. I thought this was very interesting! In some ways it places two eras side-by-side, and lets the reader ruminate on how smart or advanced we think we are, and while we are technologically advanced, how many practical life skills have we forgotten or lost along the way?
But Albert's kingdom isn't just about living the Medieval life. It's also about intrigue, romantic entanglements, and threats to the very existence of the kingdom. Which brings us to Jack Darcey–he's the one who's supposed to turn the tide and set things right, but can he?
If you're a Middle Ages geek and enjoy mash-ups, I think you're going to enjoy The Kingdom on the Edge of Reality. Mr. Hanmer's prose is delightful to read, the characters entertaining (some, you may shake your fist at in frustration), and the concept highly imaginative. Slight warning though, it's not as heavy in the fantasy area that I would've liked or assumed, but since I tend to read a lot of different genres, this wasn't a big deal 🙂
Alesha's Rating: 5.0 out of 5.0
Get Kingdom on the Edge @Amazon
Visit the author's website
About the Author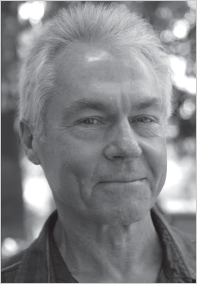 Gahan Hanmer enjoyed a colorful career in the theater as actor, director, designer and technician, and also wandered extensively searching for love, happiness and truth. He unintentionally became a grown-up raising two beloved daughters and now lives in the high chaparral desert of California.