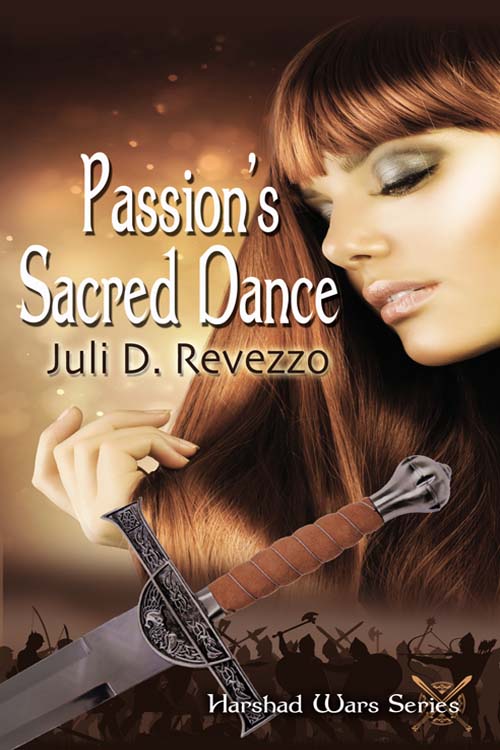 Battling mounting debt, Stacy Macken is determined not to lose her historic art gallery. When Aaron Fielding appears and offers to help, she fights to keep the attraction sizzling between them from clouding her judgment. He may be her savior in disguise–but can she trust him?
Aaron intrigues her with tales of the Tuatha dé Danann, sworn warriors who protect humanity from the monsters seeking their destruction. If Aaron can prove what he claims, she would give up anything to help–even the gallery he claims is sacred ground. But with her property set to stage the next epic battle, she needs answers. An old family diary will confirm the ancient legend is true, if only they can find it in time.
If the battle is lost, the enemy will take control of Earth for the next five hundred years. Stacy and Aaron's budding love might only complicate things.
Passion's Sacred Dance is FREE @Amazon this week only!
Q&A with Juli D. Revezzo
AE: How and when did you acquire a love of fantasy, and what prompted you to begin writing?
Juli D. Revezzo: I fell in love with fantasy literature the first time I saw The Sword in The Stone. From there (or somewhere around the same time) I discovered the Arthurian legends. What actually prompted me to start writing, though, was that some friends of mine convinced me to read Michael Moorcock's Elric series. It was just such a cool story that I fell in love and that turned on the "gee, I wonder if I could do that" light bulb in my head.
AE: As a lover of history and museums, I thought the setting for Passion's Sacred Dance was an interesting choice. Explain how your main character's museum adds to the overall story or enriches it.
Juli D. Revezzo: I worked in a museum in Florida–well, student assisted–for a while in college in the very late 90s.I actually wanted to work in one full time after graduation, but things didn't line up in that direction. For Passion's Sacred Dance,  with my heroine Stacy's interest in the family legacy as keepers of the sacred ground, it seemed logical to merge the two into the story. Stacy's involvement with a history gallery seemed to make it easier for her digest the information that starts getting thrown at her, than if say, I made her a mechanic or a math teacher (although that certainly would've helped her writer with the pesky calculations! 🙂 *ahem*)
AE: How would you categorize the book (urban fantasy, paranormal romance, etc.)?
Juli D. Revezzo: It's categorized paranormal romance though I tend to think of it more as urban fantasy romance.
AE: Do you see any interesting trends in fantasy?
Juli D. Revezzo: It's nice to see traditional high fantasy come back into vogue. I'd like to see even more published. Also, I find some steampunk interesting. I've always liked the blending of history and fantasy and the twists steampunk throws in seem fun. It's nice to see writers growing brave enough to try mixing genres and to see publishers taking the mix into serious consideration.
AE: I've read in your bio that you enjoy Arthurian legend–have you written anything yet in that vein, or will you in the future?
Juli D. Revezzo: Yes, to both. Passion's Sacred Dance actually sprung out of that–or at least my interest in the Arthurian legends led me to the Second Battle of Mag Tuired which is responsible for Passion's Sacred Dance as it stands today.  I had other ideas of mixing the legends a little more. One I hope no one ever sees (it was bad, bad, bad)! The other is in the inkling stages right now, but I'd like to flesh it out someday. I also have had, for a long time, designs on updating the stories in The Mabinogion, but I don't know if I'll ever seriously undertake it. Either way, it's one of those lifetime plans I'd like to do "one day", you know?
AE: Thank you for stopping by, Juli. I'm looking forward to seeing more of your series (and readers, don't forget that you can snag the book for FREE at Amazon!).
Juli D. Revezzo: 🙂 Thanks for having me, Alesha!