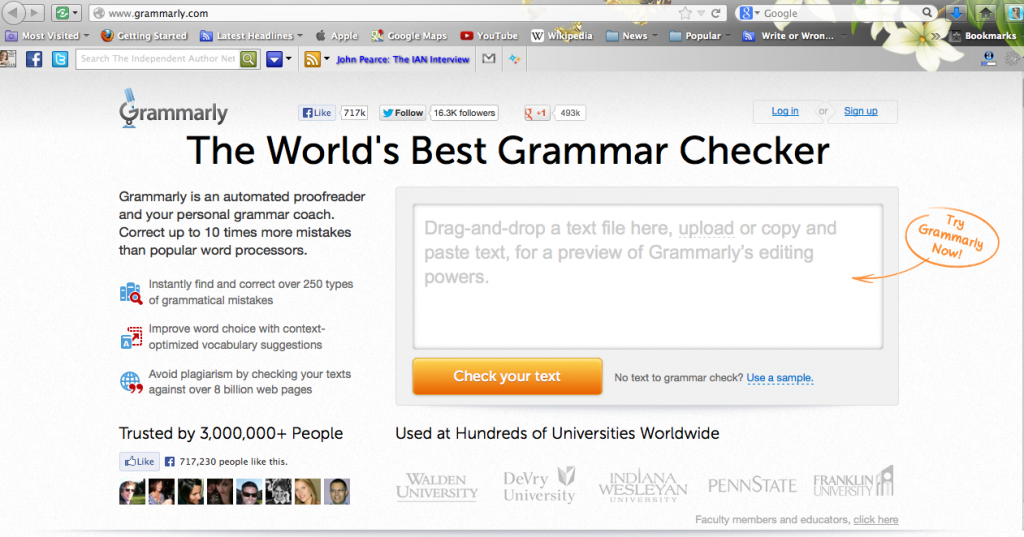 As a mom of four, writing my novels during the day isn't always going to happen. I can sneak in a few paragraphs here and there, but I'll be honest and tell you that the bulk of my writing happens at night. And, we all know what happens when you're typing away at 11pm and your eyelids grow heavy–typos!
Proofreading is important, and I feel a writer always needs a second pair of eyes to help catch mistakes. Sometimes we may not have another person on-hand to be our grammar backup, or we may be pressed for time. So what can we do about it? Well, Grammarly has created an online automated proofreader you can use to double check your work.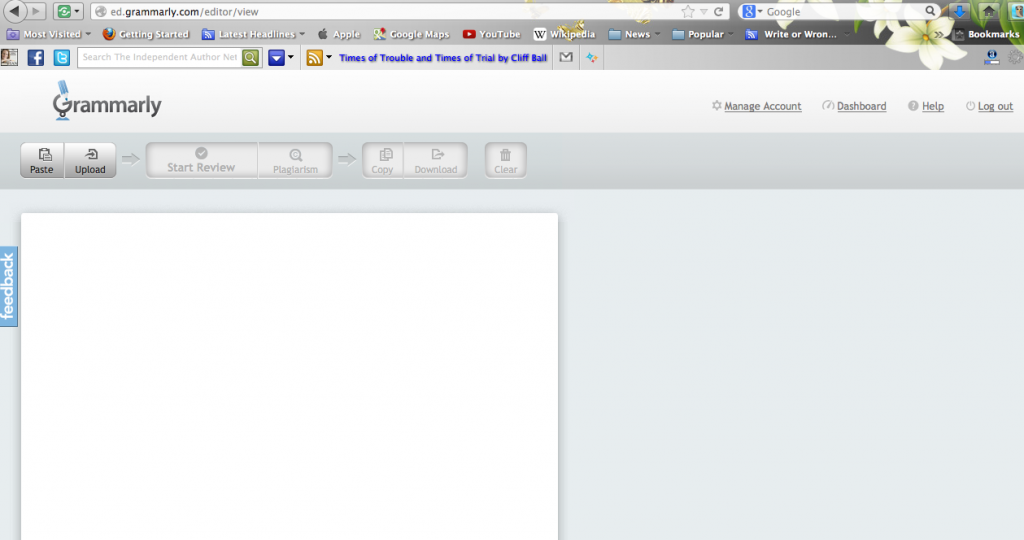 As you can see above, once you log in to Grammarly, you're taken to the "editor," where you can cut and paste your text into the white box. It's fairly straightforward and simple. You can either cut and paste into the box or upload your text in .doc, rtf, and other formats.
NOTE: There is a word count limit to the text box, so you may not be able to upload an entire (long) chapter, several chapters, or the entire work in progress all in one go.
As I am still wrapping up the third book of my Gray Tower Trilogy, CIRCADIAN CIRCLE, I decided to upload a few paragraphs from Chapter 2 into my Grammarly box: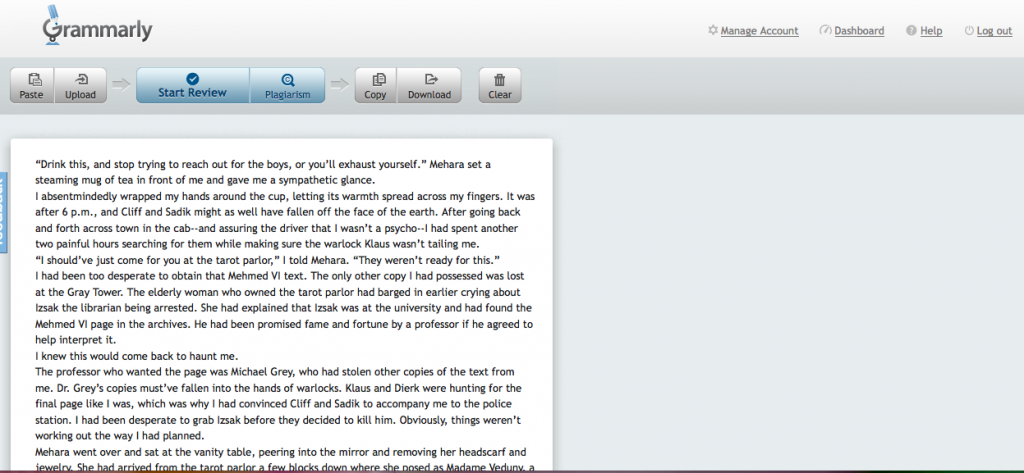 Once you upload (or paste), you'll press the START REVIEW button, which will allow you to choose which writing style or genre your text belongs to (academic, business, etc.). I chose "creative" since it's a fantasy fiction work.
From there, the automated proofreader takes over and then gives you your results: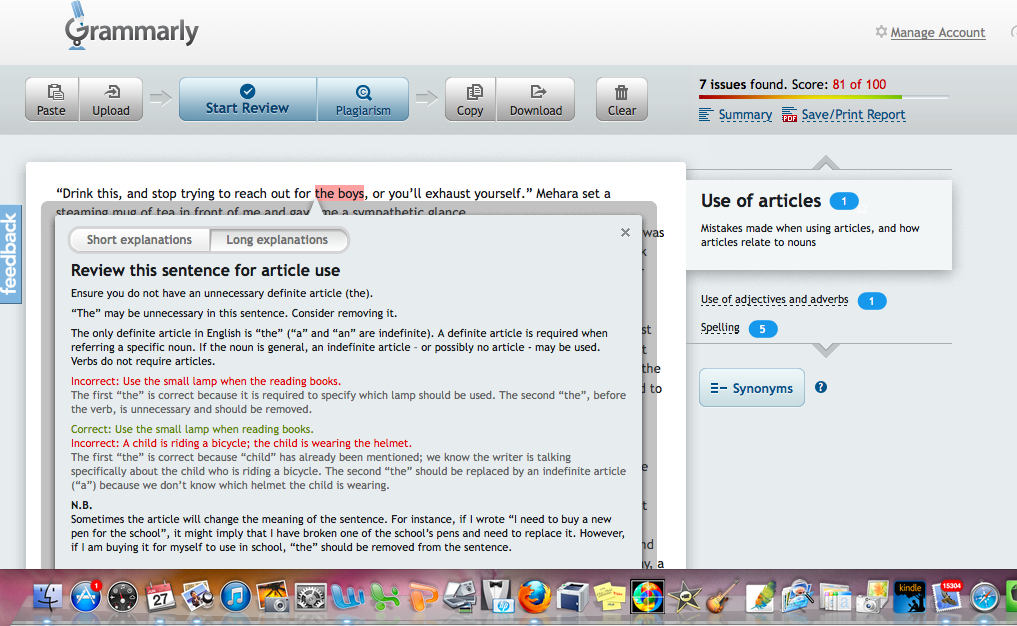 In the upper-right corner, the system will give your text a score out of 100, representing the number of mistakes found. According to mine, there were seven issues found and I got an 81 out of 100.
To the right, you'll also be able to see specifically what types of mistakes were made (misspellings, subject-verb agreement, etc.). The first one listed for me was article use in the following sentence:
"Drink this, and stop trying to reach out for the boys, or you'll exhaust yourself."
The suggested mistake here is the use of "the" in front of "boys," and it's suggested that I just use "boys." Let's see what this would look like:
"Drink this, and stop trying to reach out for boys, or you'll exhaust yourself."
The original is correct, therefore I wouldn't follow the suggestion. The flagged misspellings were the name of one of my characters, "Mehara."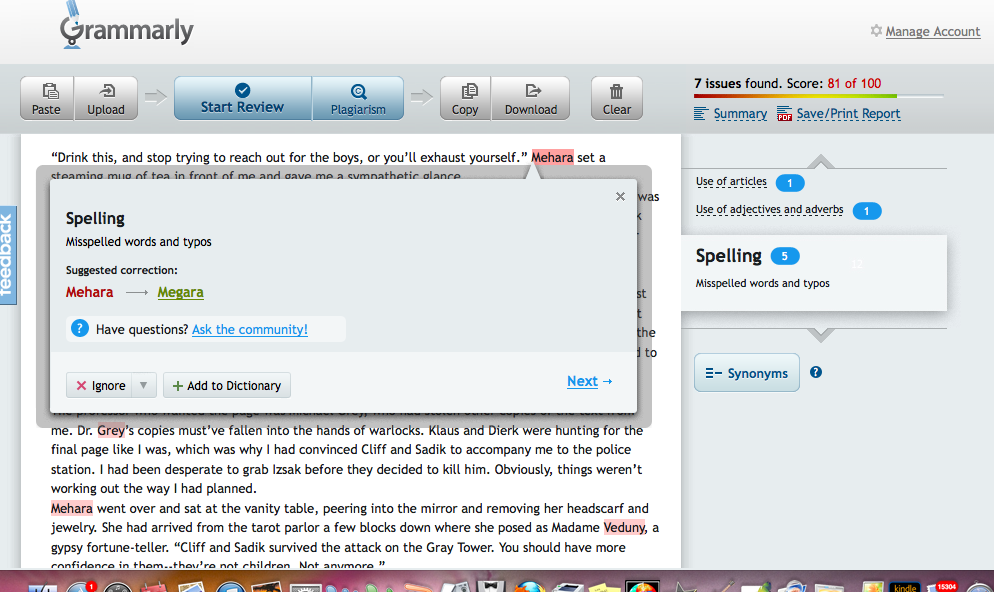 Notice though that you can choose the "ignore" option if you know for a fact your spelling is correct, or even add it to the "dictionary." I would add Mehara's name to the dictionary as she is a recurring character and I would hate to see her name flagged whenever she's mentioned.
Though it's a bit irksome for the proofreader to sometimes catch "mistakes" that aren't really mistakes, I feel that it comes with the territory when dealing with automated proofreading. I can vouch for the fact that it does catch real mistakes and typos. When I ran the first chapter through the proofreader, it caught a repetition (e.g., "the" written twice, together, and one needed to be deleted). It also caught a misspelling and suggested synonyms or rephrases, which I did find helpful.
Another cool feature is that the proofreader goes into detailed explanation of certain grammar rules, so at least you get a reason as to why a certain word or phrase was flagged. If you're still unsure, there's an "Ask the Community" link which can put you in contact with fellow Grammarly users who can lend some guidance. There is also a "help" button in the upper-right corner of the screen.
Grammarly clearly states that the proofreader isn't meant to be a one-stop comprehensive editor. It's a helpful second (automated) pair of eyes to help tidy up your work. This program is often used by academics and educators (notice the cool "Plagiarism" button you can press?) and I certainly would have been using Grammarly back in my teaching days.
If you're strong in writing and grammar, then this program will be a wonderful tool to double check and refine your writing. If you're a bit on the rusty side or have never been confident in grammar, then my suggestion would be to approach the program as a guide and not as a crutch. Take advantage of the help features.
Would I continue using Grammarly? Yes! It's severely annoying to catch little mistakes here and there after I thought I had combed my entire manuscript. Grammarly is a very useful second pair of eyes that can help me prevent those little oops and kinks.
If you're interested in checking out the Grammarly program, you can visit the website and sign up for a 7-day free trial:
Please note: I received a free trial of this program in exchange for an honest review. I am not an affiliate of Grammarly, nor do I receive any compensation.
UPDATE: As of 8/26/13 I am now an affiliate and the Grammarly links you click on from my site are affiliate links.