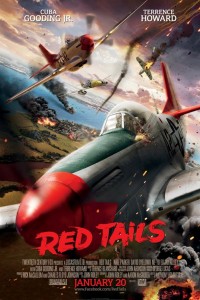 I thought the trailer for this movie looked amazing. If you haven't read up on the Red Tails, now's a great time to do it (the movie's to be released January 2012). The Tuskegee Airmen were a squadron of African American fighter pilots during WWII. Despite the discrimination and setbacks they endured from some of their own countrymen, they managed to run missions for the Allies.
Not only is their story inspiring, but they also add another fascinating layer to the history of WWII much in the way the Special Operations Executive (SOE) does. They went on combat missions that sent them to bomb volcanic islands, to clear the way for the 1943 invasion of Sicily, and back home the flight instructor even gave First Lady Eleanor Roosevelt a ride.
One of my characters in The Tower's Alchemist, Ernest Wilson, is a Tuskegee pilot running missions in the Mediterranean–that is, until he starts tracking an assassin-spy who's been sabotaging the Red Tails. His latest assignment takes him from Morocco to Spain, and eventually Paris where he and his best friend meet my protagonist, Isabella George, who's spying for SOE.
Add in the heist of a lethal formula, a vampiric warlock stalking our heroes, and a sword-wielding priest, and you have an interesting story 🙂