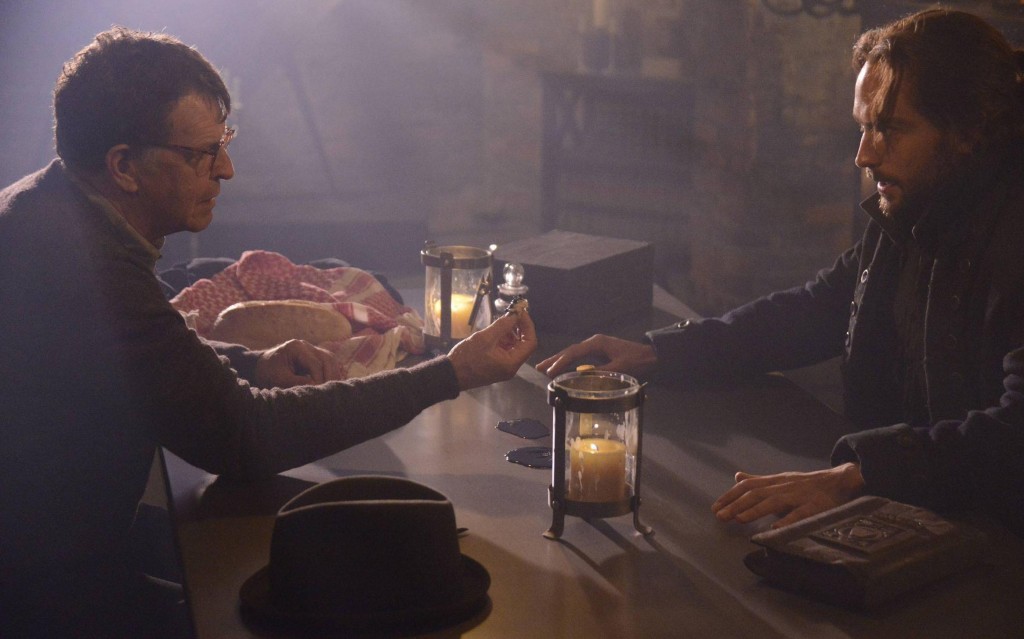 Yay! I've been waiting for Sleepy Hollow to return. It's back today with Walter! Er, I mean, John Noble. And apparently in this episode he's a Sin Eater. Ichabod still has that deadly bond with the headless horseman, and in order to break it, the expertise of the Sin Eater is needed.
Where's my popcorn and blanket? I'm already loving where this is going.
I think the concept of the "Sin Eater" in fantasy and paranormal stories is a very interesting one. In historical legend, there were pockets of communities throughout Europe (especially Scotland and England) that would host a Sin Eater–a man with the gift to alleviate the sins of the dying, but himself living as if under a curse.
[The Sin Eater] through ritual means, would take on by means of food and drink the sins of a household, often because of a recent death, thus absolving the soul and allowing that person to rest in peace. They would be brought to the dying person's bedside, where a relative would place a crust of bread on the breast of the dying and pass a bowl of ale to him over the corpse. After praying or reciting the ritual, he would then drink and remove the bread from the breast and eat it, the act of which would remove the sin from the dying person and take it into himself.
It will be interesting to see how the Sin Eater is portrayed in the world of Sleepy Hollow, but I'll wager it can't be any crazier than one of the Apocalyptic horsemen being, um, headless and a badass fighter from the Revolutionary War.
I'm looking forward to seeing Mr. Noble's performance (It's Walter, y'all!), and I'm sure there will be more supernatural mystery and mayhem to enjoy. I have nagging questions I wish to see answered, such as whether or not Katrina will ever escape her purgatorial prison, is Orlando Jones going to stab our heroes in the back, and…will Ichabod ever show up in jeans and a t-shirt?
We shall see. Until next time, friends…