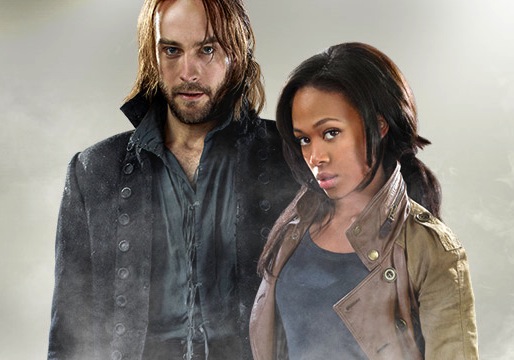 I watched the pilot episode tonight, and all I can say is–wow!
I'm a lover of fantasy and paranormal stories, so it's no surprise that the new Sleepy Hollow show caught my attention and drew me in.
The Gist
Ichabod Crane (Tom Mison) is fighting for General Washington in the Revolutionary War when his attempt to take down a masked rider delivers a turn of fate. He finds himself awake in present day Sleepy Hollow, where the landscape has changed, his loved ones are deceased, and he is left searching for an explanation.
Luckily, Crane's got police detective Abbie Mills (Nicole Beharie) at his side to help find answers. She semi-believes his story about being catapulted from 250 years ago, and even opens up to share a dark event from her own past which links up with unfolding events.
My Thoughts
So far, I think they make a great team. And yes, I chuckled during those moments when Crane fumbled his way through modern technology and questioned why there were so many Starbucks coffeehouses in town (They're good for caffeinated drinks and giving directions. I can always tell someone that such-and-such is by the Starbucks on 19th Street and then they know exactly where to go. Heck yeah!).
There's also a war brewing (of Biblical proportions, no less!), and the intrigue is heightened by players on both sides of the battle who start to come out of the woodwork. I'll definitely be returning to see what happens next, and I hope you can tune in as well. If you've missed the first episode, check it out at HULU.
If you've already seen it, I'd love to hear your thoughts. I've noticed that some viewers are wondering why the Legend of Sleepy Hollow story hasn't been mentioned or acknowledged in Abbie's world. Should it be? Would it have helped?