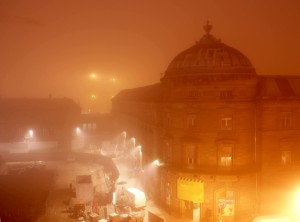 I hope you're all enjoying the tour! We have some great contests, fun interviews, and lovely writers to mix and mingle with 🙂
Don't forget after stopping here to click on the tour badge over to the right so you can get the full list of authors.
Ok, ready for more?
We can't talk about the apocalypse without reminiscing about our favorite End-of-the-World movies. Are your skills sharpened? Answer these five trivia questions below (leave your answer in the comments section for this post) and be automatically entered to win a free copy* of The Tower's Alchemist 🙂
In this movie, an ex-cop with a sawed off shotgun is the law of the land ___________
The Omega Man was made in 1971 and based on the novel ____________
In Planet of the Apes, the three astronauts find themselves in which year? ___________ AD
List three post-apocalyptic zombie movies off the top of your head! Go! ________________
Was anyone else pissed off to find out at the end of The Book of Eli that the scripture he was carrying around was in Braille? Was I the only one who didn't see that coming????
————————–
Rules
answering all the Trivia questions (preferably correctly) automatically gives you a chance to win the prize
winner will be chosen randomly from among those participating, and will be notified no later than Thursday, December 29, 2011 10pm PST
*winner will receive a free PDF copy of The Tower's Alchemist, which will be sent via email (make sure to have a valid email address)