How many of you enjoyed reading scary stories as a kid (*waves hand enthusiastically*)? Well, Q.L. Pearce is sharing with us a new series, SPINE CHILLERS. The teens and tweens in your life will love it, and dare I say, you may find yourself borrowing the book and cozying up to some great ghost stories 🙂
Say hello, to Q.L. Pearce!
Author Interview: Q.L. Pearce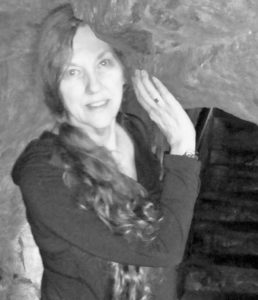 Thank you participating in this interview! First, I'd like to ask for you to share a little about yourself.
In keeping with the title of your blog, I'm sort of a mashup. I'm Canadian-born to British parents. I spent my infancy in Baranquilla, Colombia, my early childhood on an island in Florida, my teen years in Palm Springs, California, and my early adulthood in New York City. That "little bit of everything" trend continues in my work. I have written more than 120 books including educational, nonfiction, biography, and fiction for all age ranges. My absolute favorite, though, is scary fiction for middle grade to YA readers. My middle grade series, Scary Stories for Sleep-Overs (Price, Stern, Sloan), sold more than one million copies.
Your newest book, Spine Chillers: Book One, looks intriguing. When is it available, and what's it about?
You can find it on Amazon now and it will be available in paperback by the end of the year. It's a collection of short stories for tweens to teens. The tales include ghost stories, a monster or two, and a couple of quirky stories that spring from a childhood spent watching Twilight Zone.
You are also the author of "Scary Stories for Sleep-Overs," what do you love most about writing scary stories or horror?
The research. I enjoy the world building and the suspension of disbelief required in a ghost story. Things that go bump in the night are part of my British heritage and I enjoy researching creepy tales and urban legends. My dear friend, horror writer Tamara Thorne, and I occasionally go on road trips to stay in haunted hotels or take photographs at spooky locations. I think it's great fun, but I must admit that I'm a bit of a chicken. If we ever encounter something frightening, I'm the first to hightail it.
Although Halloween has just passed, I'd still love you to list a few of your favorite scary movies:
I begin my Halloween celebration every year by watching Nightmare Before Christmas. It may not be truly scary, but it sets the tone for the holiday. My list is long but some of my favorites are The Others, The Fog, Ghost Story, and The Uninvited. I'm not fond of gory films, though I make an exception for the Tony Shaloub version of Thirteen Ghosts, and Shaun of the Dead. I love the original version of The Haunting with Julie Harris. I also like a lot of the classics like Invasion of the Body Snatchers and Rosemary's Baby, and anything with Vincent Price. The one thing I don't like in a scary film is any harm coming to an animal. If I sense that coming I just stop watching.
What do you think readers will get out of Spine Chillers?
Because the stories are short, they are perfect for reading aloud at a sleep-over, or under the covers with a flashlight. I try to include something for everyone and hope that each reader finds a favorite among them.
Everyone reacts differently to scary stories–but for some reason, we still gravitate toward them. Why do you think people are fascinated by fear?
I think some people enjoy the rush of reading a scary story. For young readers it's a safe way of getting the experience without any real risk. Others may love the powerful surge that comes from visiting a haunted house or a scary ride at a theme park because of the sense of accomplishment over conquering their fear.
If you could be one of the characters from Spine Chillers, who would you be? Why?
I don't want to give away any surprises, but I think I would be Alex from the story Blackout. She's clever and brave.
I've also noticed at your website that you have books covering mythology and mythological creatures. What are some of your favorites to write about?
Myths help us understand who we are. They connect people to their ancestors, explain the unknown; show the consequences of bad behavior and the rewards for making good choices; and sometimes they simply entertain. The mythology of a culture is a window on the values, views and beliefs of its people. I'm drawn to Native American myths, particularly those of the Northwest. I'm currently working on a book about Celtic mythology. The stories of Cu Chulainn are amazing.
What can we expect next from you?
I'm working on a few things including the next volume of Spinechillers. I have two fact fiction picturebooks in work with coauthor/illustrator Gina Capaldi, a middle grade mystery adventure with coauthor Francesca Rusackas, and a YA horror novel. I'm also thrilled to be joining Tamara Thorne and Alistair Cross as co-host for YA nights on Thorne and Cross Haunted Nights LIVE, part of the Authors on the Air: Radio Network.
Where can interested readers find out more about you and your books?
They can go to my website at www.qlpearce.com
Thank you, Q.L., we look forward to seeing more from you!
Thank you!