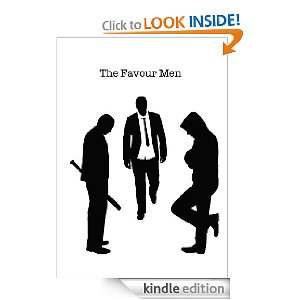 Okay, you all know I'm a sci-fi & fantasy girl–especially high fantasy and urban fantasy. So what the heck am I doing gushing over The Favour Men?
Let me tell you about author Firas Janabi's enticingly fun read.
Brothers Charlie and Jake Winters, along with their friend Harry Henderson, do favors.  And I'm not talking about just taking out the trash. They solve crimes, beat the crap out of criminals, and will even take your shift at work so you can go gamble.
As the request for favors increase, so does the danger and entanglement.
If this were a movie, I'd go see it. I'm already engrossed in the book, so grab yourself a Kindle copy and see what I'm talking about.
"If I had to compare it, a cross between 'The Boondock Saints' and 'The A-team'"
"As exciting as watching a movie, just in print!"
"Incredible action and sturdy plot has turned me into a die-hard fan of The Favour Men."

The Favour Men is a story revolving around brothers Charlie and Jake Winters and their best friend Harry Henderson. They live and work together. Their chosen profession is doing favours for people, helping those that have no where else to turn. With a strong moral compass they live in the grey area between legal and ilegal, right and wrong.
The book chronicles a trying chapter in their lives as the favours they do for people become increasingly more serious, to a point where their lives and the people they care about come to risk.
Firas's Website: www.thefavourmen.com
Follow him on Twitter: @thefavourmen