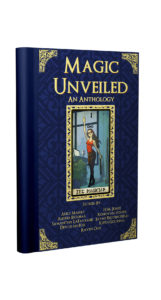 Either the wondrous or the perilous awaits us when we play a hand at magic.
A hard boiled detective chases the supernatural, unveiling a frightening world right alongside modern man's. A mother, able to grant wishes, shows us we must be careful what we wish for. An African Orisha might just pass you in downtown Los Angeles, eager to siphon some of your energy so that he will not fade out of existence.
From heart wrenching, ghostly goodbyes to relatives, to discovering sparks of otherworldly magic permeating contemporary society, these nine tales of magical realism and paranormal fantasy come together to form this enchanting and gripping anthology.
Magic Unveiled is presented to you by USA Today bestselling author Samantha LaFantasie, Seattle Times and Amazon bestselling author Raven Oak, Amazon bestselling authors Alesha Escobar and Devorah Fox, NIEA Finalist H.M. Jones, Alice Marks, Jayme Beddingfield, Ronovan Hester, and Keith Goodno.
~ About My Short Story in This Anthology, The Black Dagger Gods ~
Babalu Aye, the African Orisha, should've been punishing evildoers and healing the sick.
Instead, he's stuck in downtown Los Angeles getting harassed by gangbangers and running an alternative medicine clinic. Just another day in the life of a forgotten god.
Until, today.
When a Native American deity shows up at his doorstep with tales of conspiracy and deicide, Babalu must team up with an unlikely pantheon to uncover the Black Dagger murderer—before he's next.
The Black Dagger Gods first appeared in HDWP Books's NEW MYTHS Anthology
Save
Save