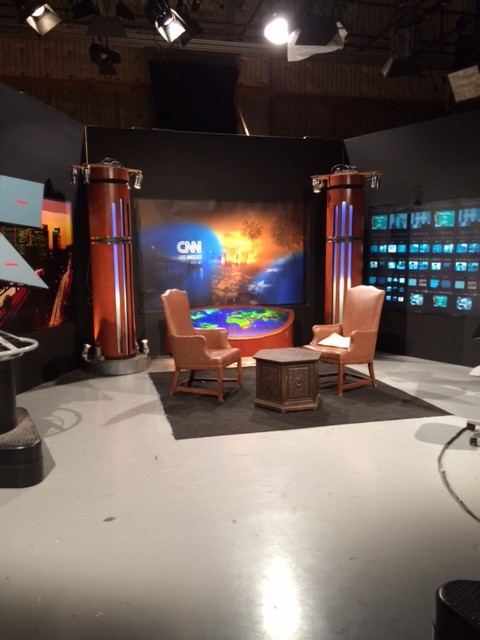 I love being able to work from home as an author. With a few key strokes I can connect with wonderful people on social media, engage my fans, and even join in on podcasts or Google Hangouts. But what about the awesome day when I am called to talk about my books on television? This happened recently, and I learned a few things. I thought I'd share my experience in the hopes that when your day comes, dear friend, you'll take this into account.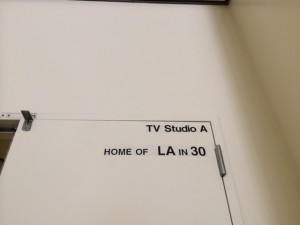 When Ms. Jaleen Wedlow asked me to come down to Los Angeles City College's TV studio to talk about my Gray Tower Trilogy and my latest venture, Creative Alchemy, I was excited–and anxious.
If you dropped in on me during any given day, you'd probably find me with my 9-month-old's food partially in my hair, my toddler's graham cracker crumbs on my tank top, and wrinkles in my yoga pants (for some odd reason I own a LOT of these). Could a busy, stressed out mom running on 5 hours of sleep really clean up and look polished for TV? Damn, and why did I have all that pizza last night? Ugh.
Despite these thoughts, being able to appear on television and discuss my books, with an audience of half a million viewers–well, I'd be a dummy to pass this up, right?
I'm glad I didn't, because the interview went fantastic. I met some very intelligent and friendly people, and I hope to continue forging connections with the LACC community. So, on to my list of things you may want to do (or consider) when you find yourself having to go on television.
1. Arrive Early
You don't want to make a bad impression (or miss your time slot) by arriving late, so always plan to make it there early (about 30 minutes early). When I arrived, I first had to find a parking spot. Luckily it only took a couple of minutes, but those of us who live in high traffic areas know the pain of sometimes having to take 10 minutes or more just to find parking. Also, the TV studio was located on campus, which meant I had to find the building and room it was located in–so that took 5-10 minutes. I met with my interviewer, Jaleen Wedlow, and we were able to semi-rehearse the interview and go over the talking points we wanted to cover. This prep time really helped me feel more relaxed, and I didn't feel off-guard at all. Arriving early can afford you these opportunities which in the long run will help your interview feel more casual and easy-going.
2. Makeup, Baby!
I will not bore you with the woes of being a combination-skin girl, but I do want to remind you to take along powder or blotting tissues so you can take care of any shine bouncing off your forehead! My appointment was after 1 p.m. on a very warm day–thems fighting words to my T-zone. There wasn't a makeup artist on set, and I totally forgot the aforementioned items (yikes!), but one of the ladies at the studio helped me out (thank you!). I wore a little lip balm, had managed earlier to line my eyes and used some mascara. Simple, but it did the trick. If you're a guy who doesn't wear makeup or powder, you can go with oil-absorbing tissues.
3. Stay Hydrated
There's going to be a lot of talking. A lot. You'll be talking to your interviewer, to the producer, etc. You're going to get thirsty, your lips may get dry, and your voice may even crack a little. Don't be afraid to bring along (or ask for) a bottle of water so you can stay hydrated. In fact, this will even help with your skin (see #2).
4. Relax
Easy to say, hard to do. I know. But if you're too nervous or self-conscious, it will show in the interview. Just try to think of the interview as a casual talk (hopefully if you've followed #1, this will be easier to do), and you'll be looking at your interviewer anyway and not directly at the cameras, so try not to focus too much on that aspect.
5. Be Prepared to Switch It Up
We had two takes of the interview, and some of the questions (and even the direction of the interview) morphed and changed. Don't be stuck on Road A when the interview is fun and everyone's interested in going down Road B. Sometimes what you plan or imagine in your head may not be what plays out, and that's okay. The purpose of the interview may be to "talk about" your books, but viewers will react more to how you present yourself and what you say. So don't be afraid to go with the flow, or laugh, or make a U-turn.
6. Bring Books and Goodies
In your excitement, don't forget to bring your books! I brought along the entire paperback collection of the Gray Tower Trilogy. We set it on display at the table so that the cameraman could zoom in on them (yay!), and when I wanted or needed to pick up one of the books, they were right there to show and describe for my audience.
I also brought along bookmarks that advertised the trilogy and had a QR code leading to my YouTube book trailer (which in turn also had links to my blog, Amazon, etc.). Now that I look back, I would have also liked to have been able to give out business cards to a couple of people I met.
Sometimes (especially for us introverts) we don't want to seem too pushy or salesy, but remember that YOU are being asked about your books, so bring material along that will help people understand what your books are about and where they can find them 🙂
7. Don't be a Diva
The environment was friendly, humorous, and very warm. I fed off this positive energy and gave it in return. Whether you're a beginner at this, or a pro, nobody likes a diva with an attitude. I shook every hand offered, talked to every one who was open to it, and when I'm done with this post, I'll be sending out "thank you" notes to a couple of people I've met at the studio.
8. Build Relationships (or Network)
This wasn't a wham-bam-thank-you-ma'am experience for me. I want to come back. I want to be invited again. Networking or building relationships is of great importance. During Women's History Month (March), I always dedicate some time to speaking about the real life female spies of WWII who inspired the creation of my heroine, Isabella. This would be something awesome to share in a future interview or even a speaking engagement at the college's campus. Right?
9. Do A Little Overtime
Make sure you leave at least an hour or two open post-interview. When we wrapped up the TV recording, I continued talking and having a great time with my interviewer, as well as the producer. In fact, we ended up doing a behind-the-scenes secondary interview, and even talked about getting back together in the near future. Now how cool is that? Much better than, "So sorry, gotta go! I want to be out of here before rush hour."
10. Have Fun!
I'm looking forward to when my interview airs. Hopefully I sound like a coherent human being. Ultimately though, what I'd like the audience to get from my interview is the amount of enthusiasm and fun I had. I'm passionate about my books, I have fun writing them, and I want to have fun sharing them.
Hopefully these tips have helped, and let me know if I missed anything!