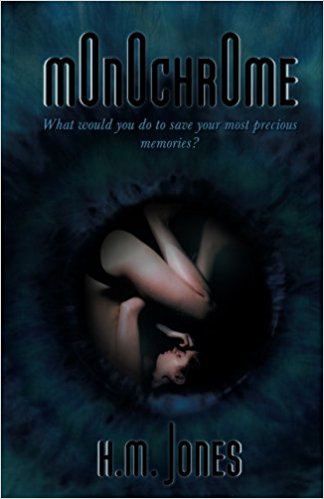 Give a warm hello to H.M. Jones, N.I.E.A Finalist 2016; B.R.A.G Medallion Book, Los Angeles Book Awards Winner. I've read MONOCHROME a while back, and till this day it stand as one of my favorite reads! I've described it as a "Wild West Purgatory," and it has a wonderful blend of action, emotion, introspection, humor, and grit. I loved it, and I want you to love it!
It's on sale for 0.99, as the sequel, FADE TO BLUE, is coming out.
***
What Would You Do To Protect Your Most Precious Memories?
In this tantalizing, sexy dark fiction, Abigail Bennet is thrust into a world of darkness, where she must fight nightmarish enemies both real and imaginary. In a place where her best memories are used for currency, she must find the will to survive. Fighting for the will to live in a place that represents the very depression that sent her there is harder than she could ever imagine. And her handsome, mysterious Guide, Ishmael Dubois, makes the fight to return to her family that much harder.
Fight with Abigail through the world of Monochrome. Find the beauty in memories forgotten; find hope through the darkness in this award-winning dark fiction.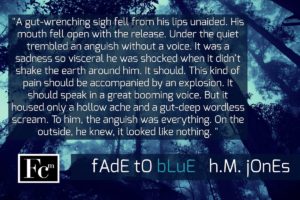 Fade to Blue H.M. Jones
*To Be Released Summer 2017*
He Did Not Go Gentle Into That Good Night…
When Ishmael Dubois' long-time girlfriend calls it quits, he spirals into an angry cycle of drinking and sleeping through the day. Staving off feelings of abandonment, he decides to spend some time with his mom, the most constant person in his life. As unsteady and flawed as she is, she loves him and he needs to feel loved.
But when he gets to her apartment, the smell from outside her door alerts him that something is very wrong. He proceeds inside to find his worse fears realized. After her funeral, Ishmael cannot bring himself to eat or drink anything apart from whiskey. Katie Mae has moved on to another man, he has no family to fall back on, and no real friends to his name.
He does have a razor so sharp it can split hairs and an ache so insatiable it is eating him from the inside out…
He heads the razor's call only to pass out from blood loss and wake in Monochrome.
The anticipated prequel to Monochrome is the charged story of Ishmael Dubois. His journey of self-discovery reveals what it is like to love so faithfully that it hurts and to care so much that it overwhelms.
Follow H.M. Jones:
Twitter: https://twitter.com/hmjoneswrites?lang=en
Facebook: http://www.facebook.com/hmjoneswrites
Website: http://www.hmjones.net
Amazon Central: https://www.amazon.com/H-M-Jones/e/B00HV5SQBM
Save