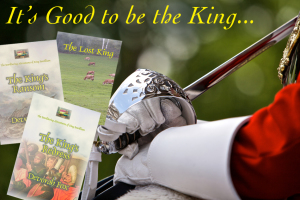 Happy birthday, King Bewilliam, officially "born" on Dec. 14, 2011 with the publication of The Lost King.
The seed for the story took root in author Devorah Fox's mind many years prior to that, but sprouted during her first writing marathon, National Novel Writing Month 2010. Since then, Bewilliam's continued to grow and thrive in The Bewildering Adventures of King Bewilliam high fantasy series, with Book Two, The King's Ransom and Book Three, The King's Redress. Devorah has informed me that The Redoubt, Book Four, was started last month during National Novel Writing Month 2014.
To celebrate and give new fans a chance to enjoy the series at a bargain price, she has created a Kindle Countdown promotion for Book Three, The King's Redress,on Kindle US and Kindle UK, beginning with 99¢ on the king's birthday.
US Countdown for the King's Redress: http://amzn.to/Txao2M
Dec. 14: $.99
Dec. 15: $1.99
Dec. 16: $2.99
Dec. 17: $3.99
Dec. 18: return to regular pricing at :$4.99
UK Countdown for The King's Redress: http://amzn.to/15XaXK7
 Dec. 14: £.99
Dec. 15: £.99
Dec. 16:£1.99
Dec. 17:£1.99
Dec. 18: return to regular pricing at £3.06
Read my Feature Friday Post on The Lost King