As many of you know, my Gray Tower Trilogy books are action-packed fantasy served against an alternate World War II backdrop–but that doesn't mean I didn't have to do research on the actual events of the war! I learned a few fascinating things, including about the importance of espionage and what British and American spies did the help win the war. So, it's only natural that I chat with author E.M. Sorensen, who is not only a veteran, but also had his share of intel analysis.
Please welcome E.M. Sorensen!
Author Interview: E.M. Sorensen
Thanks for joining me today! Please, Tell us about your time of service during the War, and how it affected your outlook on life.
I was drafted in December 1961, re-enlisted while in Basic training. Honorably Discharged Feb 22, 1965. When I was drafted, out of Penn State, I realized that I had never taken my education, this country, my self esteem, or my respect for others seriously. Life had just been one big party. There were other draftees in my Basic training unit that were receiving their first pair of shoes, many had never brushed their teeth and had all their teeth pulled out. There were also several black [Americans] that I had gone to high school with. On our only weekend leave, I met up with several 'buddies' Sunday morning after a wild Saturday night.
We went into a drug store that had a lunch counter at about 6 a.m. Myself and another white buddy, and four black friends. We were the only ones there at the moment. After 15 minutes or so, I called the waitress over and asked if we could place an order. She said, "I can take your order, but I can't serve them anything." I was in Columbia, South Carolina and it was still segregated. It was my first contact with anything like that. My four other friends had to drag me out before I started a brawl. That was the start of my change. All in all, the regimentation of the Army taught me respect for my country, respect for myself and respect for anyone, regardless of skin color, that shared my values of a certain level of equality.
Wow, that sounds like it certainly had an impact on you (and good for you for not accepting segregation). Now, you've not only served honorably in battle, but also got into some spying. I have to ask, what are some misconceptions people may have about spying or fighting in a war?
People who have not experienced it themselves have come to believe that spying and war is [like the] movies. Movies are written to make money and Hollyweird has no desire to make a real honest representation of what war is really like. I say 'like' instead of 'about.' There have been exceptions such as "The Hurt Locker" and a small handful of others.
War is a slow, dirty, anxiety ridden part of one's life. Brave people are scared shitless whenever they commit their act of extreme bravery,  Spy work is not the exciting shoot 'em up and wild chase scenes in books and movies–it is slow methodical plodding. Deep spies are placed in situations where they have to become a regular person in the enemy sectors. Yes, they do occasionally pull off some stunt or act that will get them the information they want, but it is still slowly developed and carried out. My actual intelligence work was that of an analyst of Secret and above intelligence of Russian Artillery equipment. That is what I did for two years. The last year I was in, I was in Korea as a demolitions expert and Nuclear warhead assembler. I was in Korea when the Bay of Tonkin became the US's declaration of war in Vietnam. Some of my earlier access to classified documents gave me a very real and sound understanding of what was going on in Vietnam. I did not want to go there and when my enlistment was up, I gladly took my discharge.
Fascinating. And, what were some of the most surprising, frightening, or interesting experiences you've had?
During my first two years, I was in a research arm of CONARC and was attached to Fort Sill, Oklahoma. My unit comprised of 24 Officers and 85 Enlisted. Everyone was hand picked for their IQ. The officers comprised of one Captain, eight Majors, ten Lieutenant Colonels and five Colonels…very brass top heavy. I was a Private. Interesting: the equipment I worked with was Secret to Top Secret and today much is common everyday military combat issue. There are several items that are still classified.
The worst and most frightening experience was having a test item blow up in front of me killing 3 of my buddies as well as civilian representatives of the manufacturers of the item. Interesting was when I assembled my first Atom Bomb.
Oh my goodness, your experience alone is worth writing a book about. But you decided to write a fantasy book, which I'm sure carries notes of your life experience in it. How did this all affect the creation of your book, The Purloined Pint?
After the service I went to work as a steel salesman. I attended Drexel University where I took metallurgy courses, quit, and sold sports cars, quit [again] and went to work in a private garage that prepared and maintained sports cars for racing. I ended up as a Porsche mechanic in California, Real Estate salesman, Private Investigator, gunsmith, and recently, a writer.  How did this background help me write The Purloined Pint? Hard to say. That, and my second novel, which I am looking forward to publishing around the first of December 2017, incorporate much of the technical knowledge I have learned into the stories. I am critical of accurate use and descriptions of anything mechanical. For instance, I was reading a story a few weeks ago and the author described the character putting her Glock back in her holster after setting the safety to ON. Glocks don't have safeties that can be turned on. Or the guy cutting into the safe with a blow torch. A blow torch cannot melt steel, it takes an Ox-Acetelene  torch or better.
And because you've actually taken on these vocations, you know how they work and know when someone's done their research. When it comes to your work with The Purloined Pint, what do you feel was the best part about writing it?
I started writing my first book, The Purloined Pint, in the Spring of 2014. I wrote it for my own amusement. I never told anyone or let anyone read it until February of 2017. I enjoyed putting scenes together, describing the activities of my subjects, and I enjoyed reading my own stuff over and over. I was trying to express emotions that a reader would feel such as sympathy, or sorrow, or anticipation of an event that would send tingly sensations down one's spine.
It wasn't till I was nearing completion that I told my wife what I was doing. She asked what it was about and I said, "Vampires." My wife is a very avid reader of action novels but not Vampires or anything concerning the supernatural/fantasy world. In February of 2017, I mentioned that I had written a novel to my physical trainer. She said she would like to read it. She has her Bachelors Degree from USC and a Masters from USD, both excellent schools meaning she was way above literate.
I printed a copy and gave it to her on a Tuesday. At my next session on Friday I asked if she had had a chance to glance at it. She said. "I have about 30 pages to go and love it." She said there were a lot of grammar and spelling errors, and I asked her to make notations. She did, and I entered the changes and told my wife about what had happened with my trainer and her interest. She asked to read it, even though it was about Vampires. She finished it over one weekend and told me that she loved it also.
I wrote my second (un-named) book as a sequel to The Purloined Pint, in four months flat. I learned from my first book the value of a full edit, of not just spelling and grammar, but of content, plot continuity, and everything that an editor should do.
Awesome, and I agree about the value of an editor. What advice would you give to an author just starting out?
Advice to the beginner: Don't be discouraged, even if the mood isn't there and you think you are stuck, just write anyway. You will see that all of a sudden the words are flowing off of your finger tips in a flood. You will have to review and revise, but you will be progressing.
Now to the most important of your first publish: Research people that call themselves 'editors.' They are expensive. I was lucky that I am surrounded, in my life, by professionals in all pursuits. My wife has been a lawyer for 38 years and she is well versed in technical writing. My first pre-reader has a Masters degree from a top tier college. They are good for the early part of editing, but it will take someone that does this for a living. My second book is being edited by a long time friend who is former CIA and holds a Masters from George Mason University and well on her way to her Doctorate. She and I have been telling each other about books we have liked and it was she who alerted me to the first Harry Potter novel. We have very similar tastes. She will be going through my second book for glitches in the plot. If you can find someone like that, even another novelist, it would save a bundle.
Awesome advice. And, what can we expect to see from you in the future?
Future expectations:  I will have the sequel up on Amazon by the first of December, if all goes well. I haven't put a name to it, but it will be identified as a sequel. I am now trying to start number three.
Well good luck, and I'm glad to see that it's never too late to pursue your dream of writing–it only takes will and putting in the work.
GET THE PURLOINED PINT AT AMAZON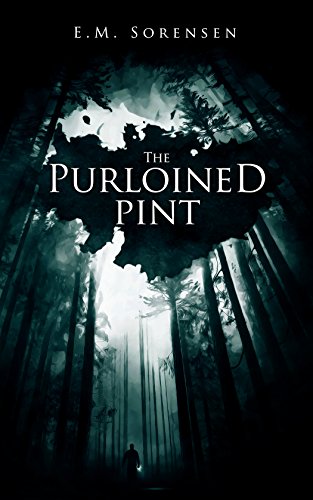 Save